Vickram Persaud, also known as 'Lil John,' was this morning charged with the murder of policeman Michael Cumberbatch, who was gunned down at his North Sophia home on Monday evening.
Persaud, a 28-year-old farmer of Doctor Dam, La Grange, West Bank Demerara, was not required to plead to the capital charge when he was arraigned before Magistrate Faith McGusty at the Georgetown Magistrates' Court.
Persaud, who was remanded to prison until October 17, accused police officers of beating him in an attempt to force a confession out of him. He also denied having any knowledge of the crime.
It was alleged that on September 23, at North Sophia Squatting Area, Persaud murdered Cumberbatch. Police had said that at around 8.40 pm on Monday, Cumberbatch was shot and killed by a man armed with a handgun at his North Sophia Squatting Area home.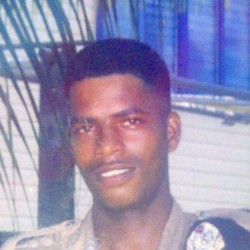 According to the police, the perpetrator was enquiring about someone named "Quacy" at Cumberbatch's residence and an argument ensued, during which the policeman was shot to his chest.
The suspect, Sophia residents had said, was in the area most of the day making inquiries before the fatal confrontation. Police, based on the information given including a description, arrested the man around noon on Tuesday.
Crime Chief Seelall Persaud subsequently said that the suspect had confessed to the crime and was identified in an identification parade.
Around the Web