Georgetown Mayor Hamilton Green says that local government elections is imperative if any progress is to be made in restoring the city to its former glory as the absence of polls is effectively holding back domestic as well as international assistance.
At a packed public forum to update stakeholders about the "actual situation" at the Georgetown Municipality at City Hall, Green revealed that persons overseas on several occasions expressed interest in making donations and providing other forms of assistance, but only after local government elections are held.
He said the fact that local government elections have not been held since 1994 is a "stain and a shame" on the country, both domestically and internationally, and it will remain this way until elections are held.  But, he stated, elections would be impossible without a systematic restructuring of local government systems.
As part of the restructuring, the mayor said, a Local Government Commission is needed as in its absence, all the powers it would have, now reside with Minister of Local Government Ganga Persaud.
Green also echoed statements made by the four key western diplomats on Wednesday that underscored the importance of local government elections.
Meantime, Green also spoke of the recent sacking of five senior City Hall officials and the need for more staff.
According to the mayor, City Hall has long been struggling with stealing and other corrupt practices by various officers who use their positions to unduly acquire additional wealth for themselves at the city's expense. He said while he agreed that some of the officers dismissed should have been sent home some time ago, there is a dire need to fill the vacant positions since City Hall cannot function efficiently at its current strength.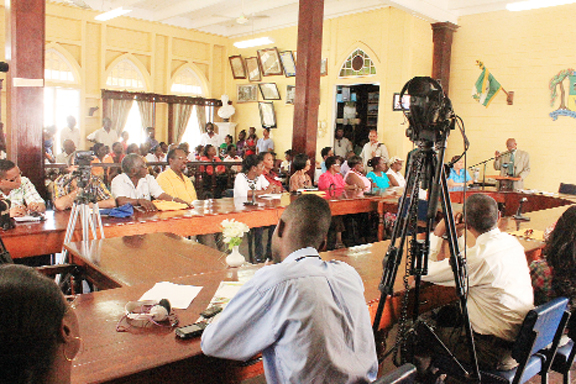 Green also addressed accusations levelled at him by the local government minister concerning the inoperative status of the seven garbage compactor trucks. Earlier this week, Persaud had stated that the garbage trucks were purchased with the city's subvention and revenue from rates and taxes collected from the citizens, who are being deprived of the services to which they are entitled as a result of the situation.
Persaud had said that he was advised that some of the compactor trucks are down for no major problem. "We are disappointed… the council is not interested, I am not aware that the mayor has come here to inquire why these trucks are down and why people are complaining that their garbage has not been collected for the past two months," he was quoted as saying.
Green rebuffed the allegations, saying that he visited the minister's office on January 7 to make several inquiries, and none of what Persaud is saying now was mentioned to him.
Concerning the condition of the trucks, Green said City Hall was persuaded to purchase the trucks but lacked the necessary expertise or parts to service the vehicles. He added that the trucks are neither new nor reconditioned, but second-hand equipment.
Despite these issues, Green was optimistic that all problems currently being experienced can be remedied, if all stakeholders, including government, the private sector and the religious community do their part.
Around the Web