Canadian High Commissioner David Devine commended several Tobago Hill, North West District residents on their graduation from an Adult Literacy Programme, noting that it will act as a catalyst for more participation in development in Region One.
The programme was a joint venture between the Canada Fund for Local Initiatives (CFLI), formerly a CIDA-sponsored fund, the Government of New Zealand, the United States Peace Corps, the Region One Regional Democratic Council, the Department of Education and the Tobago Hill Village Council.
"Your graduation represents the beginning and not the end of your pursuit of knowledge," Devine said in his speech to graduates. He further noted that education and knowledge are unlimited and urged them to enhance their newly acquired skills by working on improving their talents and creativity.
The High Commissioner also pointed out that with this milestone the participants are now more equipped to take advantage of several new investments and opportunities in the district. Further, he expressed hope that they will use their skills and training to foster growth and development in their community.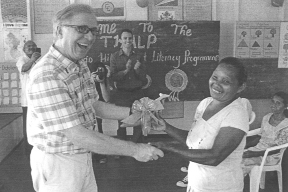 The learning programme was developed and delivered by Peace Corps Volunteer Nathaniel Stewart, who was praised for his exemplary contributions. English was one of the subjects taught, which for some villagers is a second language to their native tongue. Devine lauded the villagers' willingness to learn the language and their commitment to programme. He said the acquisition of these skills will serve as an incentive for the continuation of support provided by Canada and its partners.
Canada's relationship with the village dates back to 2005 when families were relocated from Simotoo Creek as a result of several health hazards and other risks which arose as a result of flooding in the area. In an effort to assist the community, CFLI supported a small livelihoods project and built various sanitation facilities to help the community adjust to its new environment.
Around the Web