Fed up of being ignored by the Education Ministry, a teacher of twenty years took to the roof of the Richard Ishmael Secondary School yesterday to protest for payment of his salary and the approval of his application for no-pay leave.
In the end, Sheldon Williams finally got the attention of senior officials of the Ministry of Education, including Chief Educa-tion Officer Olato Sam, with whom he met to resolve his concerns.
Williams, who had been denied his salary since he was on sick leave at the start of the year, said it was being told on Monday that he would be paid until "May or June" that pushed him to take to the roof as he was not sure what else to do since he followed all the proper avenues and was not getting anywhere. He had also got no responses to his application for a year's no pay leave.
"I took to the roof because I wanted the persons at the ministry to understand what has happened," said Williams, who has been a senior teacher for the past 13 years and is currently the Head of the Industrial Arts Department at Richard Ishmael.
At the end of the meeting with Sam and other education officials and officials from the Guyana Teachers' Union (GTU), including its president Colin Bynoe, Williams was told he would be paid and his no-pay leave was approved starting at the beginning of the new term. He was also sent on administrative leave for the remainder of this term, which ends on Friday.
After the meeting, Sam told Stabroek News that Williams' concerns were addressed and he also admitted that the ministry will have to put mechanisms in place to have issues faced by teachers dealt with in a timely manner.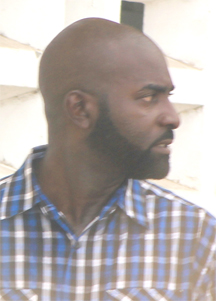 Teachers should have "some other avenues" that they can turn to instead of what transpired yesterday, he said. "Our system needs to be responsive to our customers. Teachers are our customers," Sam said, while pointing out that there were some failures on the part of the Education Department to respond to some of the issues Williams had and to have them addressed.
Questioned whether disciplinary actions may be considered in light of the extreme action Williams took, Sam said that it is not something under consideration. Lessons would be learned from the experience, he noted.
'It is the principle'
Williams spent about two hours on the roof and came down shortly after his shocked wife as well as Sam turned up at the school. "It wasn't a prank or a joke, I wanted people to understand what was happening," he said afterward.
He explained that he was stricken with malaria in January and did not return to school when it reopened after the Christmas holiday. He sent in two medicals and returned to work on February 12 and a letter of resumption was prepared and sent to ministry. But his headmistress had informed him that she was instructed to stop his salary while he was on sick leave.
Williams also explained that he had applied for a year's no-pay leave, to which he is entitled. He said when he asked the head of his school to check on the status of his salary and his leave application, she got no satisfactory answer from the ministry.
As a result, he decided to visit the Ministry of Education and met with various officers but he was not happy with the manner in which they responded. He questioned why he was not being paid and why his name was taken off the payroll and "nobody could say who stopped my salary and when I would be paid."
Williams pointed out that during the meeting with Sam and other senior officials it was apparent they were unaware of his plight. He said he wanted to have a conference with the CEO and he was happy that in the end this was granted. "It is not the money, it is the principle. It is not as if I was fighting for a salary but they can't wait until June to pay me and no one is telling me why," he noted.
For Williams, who is a second year student at the University of Guyana and a reserve Lieutenant in the Guyana Defence Force (GDF), the situation may have marked the end of his teaching career as he said he is unsure if he wants to return to the system at the end of his no-pay leave. The father of three said he could not be certain that he would not be victimised even though he was assured that this would not happen.
Questioned how he was going to live without his salary now that he has been granted his no-pay leave, Williams explained that he and his wife had put mechanisms in place to deal with the situation but these could not be activated while he was being denied leave. He noted that he has to go on leave in order to oversee the completion of the construction of his home, which he wants to ensure is done properly. In the interim, he said, he has a huge mortgage to pay and is still living in a rented house.
'Not proactive'
Asked whether the action he took yesterday was not extreme and could lead to questions about his professionalism, Williams said that it was "my way of dealing with certain things. People can and will say anything because they are not in my position."
Meanwhile, General Secretary of the GTU Coretta McDonald told this newspaper that yesterday's episode should have never happened but for too long some sections of the education ministry have become very slow in doing what needs to be done.
"They have gone into the reactive mode. We are not proactive in allowing certain things to happen or putting things in place to get things done. But when things happen, then we are hustling to react or to put some white paint to cover what has happened when we could have prevented those things from happening," McDonald said.
According to her, Williams was just a frustrated teacher who reached a point where he thought about doing "nothing else but to just air his concerns at the top of the school." She said while some may want to talk about his professionalism, behind the situation is a person with needs who is working but has no finances coming in to pay his bills.
McDonald pointed out that when teachers attempt to meet with education officials, they are told that they are busy but when Williams took the extreme measures many senior officials turned up quickly. She questioned if this is the "level teachers have been brought down to" that they now have to join "everybody else to start protesting." She also questioned whether it will do any good for the society.
Around the Web