Human Services Minister Jennifer Webster says government plans to introduce night-care facilities for children of single parents with night jobs and she has also hinted at the introduction of means testing mechanisms to guide old age pension payouts to ensure those in need benefit.
Webster made this announcement during the budget debates in the National Assembly on Wednesday, which saw 12 Members of Parlia-ment taking to the floor.
In her presentation, Webster argued that all of the programmes provided for in the social sectors in the government's proposed $208.8B budget are aimed at improving the quality of life of all Guyanese, including women, children, the elderly and other vulnerable groups, through targeted interventions. "Greater emphasis will be placed on the delivery of improved social services… it is to this end that in 2013 the Ministry of Labour, Human Services and Social Security in accordance on its mandate will focus on meeting human needs through the provision of human services," she added.
Webster said that there was an increase in the number of child abuse cases investigated from 3,653 in 2011 to 3,690 in 2012. Of those cases, 396 children were successfully removed from abusive situations and 81 of these children were reintegrated into their biological families from formal care, including foster care, residential care and kinship care, she said.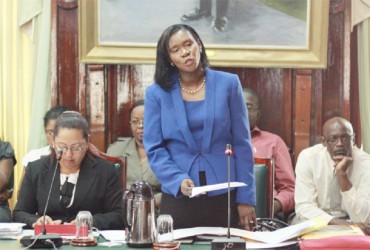 In addition, the Child Care and Protection Agency provided family support through counseling to 5,325 families in 2012. "This year, emphasis will be placed upon the implementation of the early childhood development programme with the registering and licencing of all day care facilities for children," she said, while noting that there are currently in excess of 200 such facilities in operation in Guyana.
"We continue to work to prevent the separation of children from their families… specially-trained officers will be tasked with the responsibility to register and licence these day care facilities as well as to monitor their operations to ensure that they operate in accordance with established standards," she said.
"And this year it is our intention to introduce night care facilities for children of single-parents, in an effort to support those parents, particularly mothers, who by virtue of their employment are required to work long hours," she further explained.
With regard to old age pensions, Webster said that increases may warrant government devising some mechanism of verifying the need and income levels, "so that our expenditure is targeted in a pro poor manner."
Webster said too that Guyana remains committed to fulfilling its obligations under the Convention of the Rights of the Child and reported that there has been progress in implementation.
Noting that suicide is symptomatic of mental illness, she also said that the ministry is committed to understanding and addressing the mental and emotional wellness of the nation's population, particularly the youths, through the strengthening and expansion of the Probation Department.
Responding to a comment made earlier by an opposition speaker, she also gave the assurance that her ministry will be investigating all complaints against its officers.
Around the Web