In March, the US embassy's Humanitarian Assistance Programme donated health supplies to the Ministry of Health and sports equipment to a community group, as part of its mission to provide assistance to social, economic and medical groups in need.
A release from the embassy said a donation of sports equipment was made to the Linden Community Youth Volunteer Group (LCVG) on March 19 in partnership with the embassy's Public Affairs office.  The US non-profit organisation, Spirit of America also provided school kits to the LCVG at the same event.
These donations will contribute to the efforts to resuscitate the Linden Young Men Christian Association (YMCA) to its full operational capacity.  Access to the new sports equipment and educational materials will enhance the after-school activities for children in the community.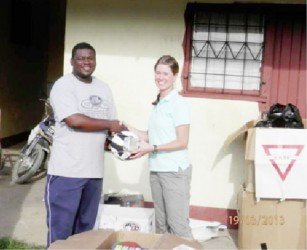 The release said that the second donation made on March 26, included supplies of medicine, water purification tablets and bleach to assist the Health Ministry in its response to the gastroenteritis outbreak in Port Kaituma, Region One.
The Chief Medical Officer, Dr Shamdeo Persaud expressed gratitude on behalf of the ministry. He noted that the donated medicines and items will aid the residents of Port Kaituma.
The release said that the donations to the Health Ministry and the Linden Community Youth Group are the two latest initiatives undertaken by the US embassy's Humanitarian Assistance Programme which provides assistance to communities to enhance social, economic and medical development.  It partners with many local and international civic organisations to achieve common goals.
Around the Web