Jamaican billionaire investor Michael Lee-Chin winged out of Guyana yesterday with optimism about future investment here, especially in the areas of agriculture, telecommunications and financial services.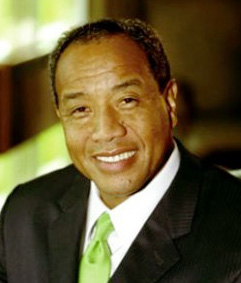 "There is a tremendous runway, a very long runway of opportunities that Guyana will be having. The quick and dirty conclusion is we want to be a part of that, of those opportunities," Lee-Chin said before leaving, after a two-day visit with a team that came here at the invitation of former president Bharrat Jagdeo.
Lee-Chin, who is Chairman of privately-held investment company Portland Holdings Inc. and Executive Chairman of Canadian mutual fund AIC Limited, already owns stakes in National Commercial Bank of Jamaica, Total Finance in Trinidad and Tobago and Columbus Communications in Barbados.
He said that he and his team, which included officials from Portland Holdings and the National Commercial Bank of Jamaica, were here to explore possible investment opportunities with an aim to bring capital and requisite expertise as they seek to "enhance the life of the average Guyanese."
He indicated that agriculture is a "definite" area in which he plans on channeling investments.
Lee-Chin pointed out that he had met with several ministers of government, including Minister of Agriculture Dr Leslie Ramsammy, who etched a positive and indelible impression in his memory. "He sounds very passionate and gave a very cogent perspective as to the potential of being very food sufficient, at least for the Caribbean and then go beyond…We certainly are enthusiastic. We will now go back home look at the domain experience and look at other investments we have made and see how we can build an ecosystem that can be relevant to Guyana in terms of expertise… The bottom line is we are interested in both agri and aqua culture," he said.
In the area of telecommunications, the business magnate underscored the importance of having competition in Guyana to register improvements in the sector. He said that given that his companies have telecommunication investments across the Caribbean and the Americas, it is an area that the company could capitalise on by running another undersea fibre-optic cable. "The telecommunications business and financial services have some domain expertise in that area and there is the need for it. I think there needs to be more competition in Guyana," he said.
Questioned about possible plans if the telecommunications sector was found to be a favourable investment for him, he noted that Portland Holdings is a co-founder of Columbus Communications, which is very active on a retail basis in the entire Caribbean. The company, he said, also wholesales bandwidth via a 20,000-kilometre undersea fibre optic network that begins in Miami, Florida and hubs to every single central and South American country and up the Caribbean. "So that pipe that provides broadband is owned by our company.
We will be looking at ways to leverage the infrastructure that we have… I don't want to build any expectations that are unrealistic," he, however, added.
Lee Chin also informed that the National Commercial Bank of Jamaica was looking at investment opportunities in the banking sector but he was not immediately keen on opening a bank as he preferred to be tried and tested by the Guyanese system. "We are eager to find ways to enter the financial services sector in Guyana," he said. "I am told that the central bank has not issued any banking licence over the last 15 years or so. We aren't rushing… we are tempering our expectations in terms of what we have heard and what hasn't happened in 15 years," he added.
He said they were "optimistic because there are a lot of opportunities for financing a lot of opportunities" where they can bring their products to the country. "…We would hope that at least we can get a toehold and start small and grow and once we get a mutual understanding of each other, then we will be given more latitude in terms of the requisite licensing where necessary," he added.
Lee-Chin and his team praised Guyanese for leaving them in awe of its hospitality. His only regret was not visiting sooner but he plans to make up as Guyana is both investor and investment-friendly. "I am impressed. It's been a long time coming. The hospitality has been overwhelming for a country that is poised for future growth. You have leadership that has put the country on a good footing… the perception of Guyana still is not what Guyana is. Guyana is open for business and the opportunities to do business are phenomenal," he said. "We came open minded and we are leaving passionate and enthusiastic" a smiling Lee-Chin told Stabroek News.
Around the Web