The two men who perished in the plane crash which destroyed a house in Sparendaam on Saturday have been identified and the burnt engines have been retrieved for investigation by US authorities.
The men who died are 71-year-old American pilot Pierre Angiel and 54 year old Canadian technician Nick Dmitriev.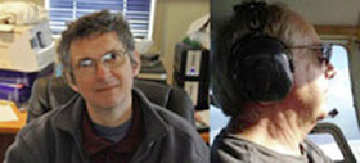 Angiel's identity was yesterday revealed by Guyana Civil Aviation Director General Zulficar Mohammed to the Associated Press, while Dmitriev's identity was confirmed by local sources.
Mohammed said that Angiel was the Director of Environsafe Inc., a Miami based mapping company. Dmitriev was a Senior Project Scientist with DigitalWorld Mapping Inc., a Canadian company which specializes in the use of the Light Detection and Ranging (LiDAR) technology.
Both men were part of a five-man team charged by the Government of Guyana to carry out a survey for the Amaila Falls access road. According to a fellow team member, the men had been in Guyana for almost two weeks and had flown several missions, including one last Friday. The source said that though weather was a determining factor, the team probably would have concluded the survey in another three days.
It was also said that the American registered N27-FT Piper Aztec plane which crashed was not only piloted by Pierre, but was also his own and the only one he would fly.
Stabroek News understands that the men were friends and that both of them were competent in the fields in which they functioned.
The remains of both men were on Saturday evening taken to Lyken's Funeral Parlour where they await the families' arrival to identify the remains before a post-mortem examination (PME) is carried out.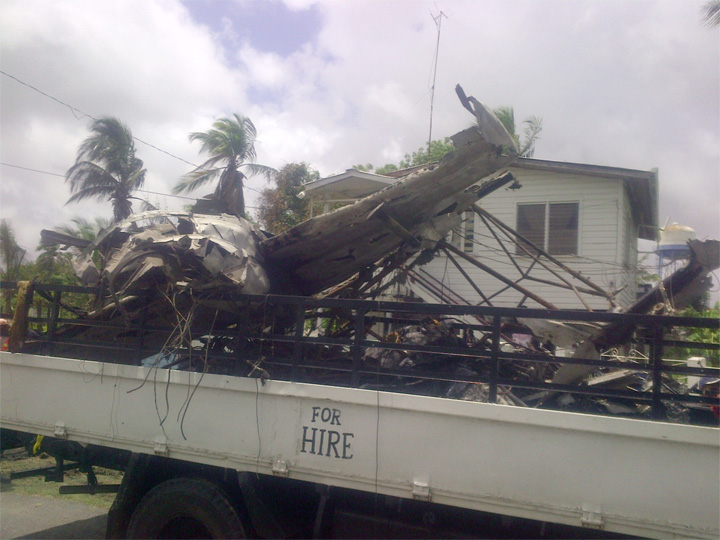 Meanwhile, aviation officials are still stumped as to what might have caused the plane to crash. What was certain however, according to Works Minister Robeson Benn is that "It took off with six hours of fuel from Ogle and it looks like it lost an engine and then crashed."
Veteran pilot Gerry Gouveia on Saturday also speculated that engine failure might have played a role in the crash.
"My own staff said they heard the change of engine sound which kind of signify that there might have been an engine failure, but we don't know," he said.
He said yesterday that while there are no mandated between-flight procedures, every experienced pilot would usually walk around their aircraft to ensure that all is well. In addition, after fueling up, he said that it is standard for a pilot to check to ensure that there is no water in the fuel.
Gouveia ‒ the owner of Roraima Airways – said that a crash like this is rare. "This is a twin engine aircraft and it's meant to fly with one engine. It's meant to, if one engine fails, the other one, it should fly," he said. Nevertheless he said that until an investigation is carried out we can only speculate about what caused the crash.
Up to yesterday afternoon the Guyana Civil Aviation Authority (GCAA) was also no closer to answering these questions than it was on Saturday. GCAA Director of Air Safety Regulations Paula McAdam yesterday said "we have no information as to what may have been the cause or anything of that sort, we basically don't know. We have to wait for the investigations so we're waiting."
She said that since it is not known what, if anything was communicated from Angiel to the control tower at Ogle, they are unable to say if the problems experienced by the pilot might have been mentioned.
Both engines were removed from the crash site and taken to the Cheddi Jagan International Airport (CJIA) from where they will be shipped off to the United States (U.S.) for examination by the National Transportation Safety Board.
McAdam explained that an examination of the plane's engines will have to be carried out to determine what went wrong, but could not say when the investigation would start or when it would be completed.
She shared that the necessary examinations will be carried out by the NTSB, an independent U.S. government investigative agency responsible for civil transportation accident investigation which investigates and reports on aviation accidents and incidents etc.
She said that the engines will be shipped to the body by the end of the week, and that contact has to be made with NTSB.
Until they are shipped the wrecked parts "will be kept in a sterile facility at the Cheddi Jagan International Airport (CJIA) under lock and key so as to minimize further contamination."
McAdam also said that it may be some time before the investigation itself is completed and its results made known.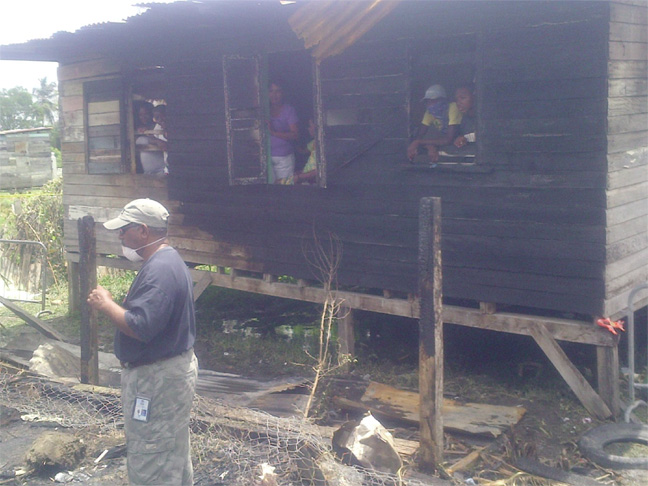 "These things take time, said McAdam, who disclosed that the investigation will be done at no cost to Guyana. She explained that "the service is offered to countries all over the world that lack the necessary capacity to carry out such investigations, they (NTSB) help countries all over the world and so they usually have a lot of work to do and we just have to join the queue."
Residents near the site of the crash said that works to clear the debris left in the wake of the plane crash resumed around 9:00am yesterday.
The plane crashed into the Lot 78 Graham Street, Sparendaam Housing Scheme home owned by 69-year-old Florence Dyer-Tyndall. The elderly woman, who was visibly shocked after the incident, had told reporters that she was in her home when she heard a loud "boom."
She explained that she initially ignored the sound since she was accustomed to hearing planes fly over. After her house began to shake however, she said she beat a hasty exit, upon doing which she found that her house was on fire.
Dyer-Tyndall, who shared the three-bedroom house with three other individuals has spent the last two days  at the abode of one of her neighbours. She said she will be staying there until she finds alterative living arrangements.
The woman, despite her heavy losses, was in an upbeat mood when Stabroek News visited her yesterday and said "I got to live, it done happen I can't do nothing. I just gotta move on from here and do the best I can."
When questioned about possible compensation for those affected by the fire Mohammed said that the insurance for the aircraft may very well cover the damages and that the GCAA is in no way is obligated to provide any form of compensation.
Nevertheless, he said, GCCA intends to do whatever they can to assist. Officials from the body were yesterday seen formulating a list of school items to provide for two young girls, ages 15 and 17, who lived with the elderly woman. Dyer-Tyndall explained that the two girls, one of whom will be sitting this year's CXC examinations, had lost their uniforms, text books and all other school materials ad were therefore unable to attend school.
The Government also reportedly promised to provide the woman with a replacement home. She explained that officials from the Ministry of Human Services, including Human Services Minister Jennifer Webster had visited her yesterday and had promised that the state would take care of providing a replacement home for her and those she lived with.
Minister Benn, who returned to the site yesterday, said that some engineers would be sent to the site to determine how to go about making this provision. Officials from the GCAA yesterday were asking Dyer-Tyndall to provide a picture of what her home looked like before the incident, so that the engineers would have an idea of the structure that is to be built in its place.
Dyer-Tyndall said that she was very pleased by this news since she had been living on the very spot for around 48 years, and has no desire to move.
Also wondering about compensation was 45-year-old Elizabeth Bell whose house also suffered considerable damage from the blaze which consumed her neighbour's house. She too said she had been promised assistance from the Government.
Belle, a single mother, lives in the badly-scorched house along with her nine children. She said that in addition to the damage done to her home she had lost several personal items due to water damage and theft. The woman said that after she had rushed her children to safety, several residents went into her home under the guise of attempting to save various items. In the confusion which ensued, the woman said that some of those very persons stole two lap tops and an undisclosed sum of money.
She however said that despite her losses she has some peace of mind since Benn and his team have thus far been very helpful and have promised to help in whatever ways possible.
Benn said that his engineers would also take a look at the nearby buildings damaged by fire as the ministry positions itself to determine how to best approach necessary repair works.
There have been several incidents with aircraft over the years, but crashes involving fatalities are infrequent. Similar incidents include the crash landing of a Trans Guyana Airways Skyvan after its right engine failed post take off. Two persons were killed and another injured in this incident.
Around the Web