The Ministry of Labour, Human Services and Social Security is advising the public that Kareem Abdul-Jabar is no longer employed as Chief Co-Operatives Officer and it is also seeking information from persons who acquired land over the last two years through liquidations presided over by the Co-Operatives Department.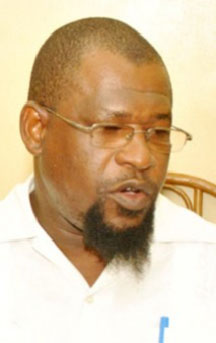 Notices to this effect in yesterday's Sunday Stabroek represent further fallout from the controversial sale last year under Abdul-Jabar's  tenure of land in Lamaha Gardens after the liquidation of a supposedly defunct co-operative. Abdul-Jabar was first sent on leave by the Ministry and then his employment was terminated.
He has since challenged the Ministry's actions in court.
In the notice about  Abdul-Jabar yesterday, the ministry also said that Cecil Ramnarine is no longer contracted as a liquidator by the ministry and is therefore not authorized to liquidate any co-operative.
He was the liquidator in the Lamaha Gardens matter. The ministry is also soliciting information from persons who might have purchased land via liquidation conducted by the Co-operatives Department between January 2010 and December 2012.
It says that these persons can contact it on numbers 226-6076, 225-8644 or 223-7585.
After residents of Lamaha Gardens got wind of the sale, they mounted protests and set about trying to reclaim the land saying that it was a playground for children from the area.  They have threatened legal action for the recovery of the land.
Around the Web