Adjodha Persaud, 64, was yesterday sentenced to a 60-year prison term after he was found guilty of the murder of his nephew.
Justice Navindra Singh handed down the sentence to Persaud at the High Court after a guilty verdict by the 12-member jury that was hearing the trial.
Persaud, who is confined to a wheelchair after suffering a stroke, had pleaded not guilty to killing his nephew, Chaitram Gooroodiyal, after they an argument over a piece of land.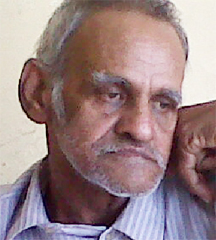 In handing down the sentence, Justice Singh told Persaud that the argument was a stupid one and that he found no mitigating factors in the case.
During the course of the trial, Persaud's statement to the police, in which he admitted to stabbing the deceased, was admitted as evidence. He told police that on October 2, 2009, at Second Field, Cummings Lodge, he was drinking with a friend when Gooroodiyal came and asked them for a drink. He stated that he gave him a drink and Gooroodiyal ended up in an argument with him and his friend. He told police: "Me lef an go in me house and me pick up a knife. He run in de house and me juk he in de stomach and the knife lef in he."
Although, Persaud had told the court in an unsworn statement in his own defence that he was peeling an apple when Gooroodiyal rushed into him and got stabbed by the knife, it contradicted testimony by witnesses to the stabbing.
Poonam Gooroodiyal, the niece of the deceased and the great-niece of the accused, had testified that the men were arguing for about an hour, after which Persaud went into his apartment and returned with a knife.
Persaud then took the knife and stabbed her uncle, she said.
Gooroodiyal's mother, Minoutie Gooroodiyal, had also testified that she saw the accused, who is her brother, stab her son.
Persaud was represented by attorney Peter Hugh, who made a mitigating plea on his behalf. State counsel Rhondel Weever and Renita Singh led the prosecution.
Around the Web