The Agriculture Ministry's allocation in this year's budget was last night approved untouched despite the opposition's original plan to trim some of the moneys
All-clear for the ministry came after satisfactory explanations by the Minister of Agriculture, Dr Leslie Ramsammy and his promises to back up his positions.
Up to press time this morning, the opposition had not yet snipped any of the planned expenditure and in addition to agriculture, foreign affairs and legal affairs also saw their allocations being approved in their entirety.
Consideration of the estimates started last evening after a momentous ruling by Speaker Raphael Trotman in favour of the opposition to cut expenditure if it so desired.
The Alliance For Change had originally indicated that if Ramsammy was not able to satisfactorily explain the delay in the supply of 14 drainage pumps, both fixed-site and mobile, being delivered to this country from India, the party would not approve the allocation for this expenditure. $654M has been allocated for the pumps this year.
In addressing this area of concern, Ramsammy told the National Assembly that a team from Guyana will leave on April 26th for India to carry out testing on the pumps. He said that this was one of the criteria in the signing of the contract for the pumps delivery. He explained that while March 31st was given as the deadline to travel to India for the diagnostic checks, it was extended to April 30th and it was his ministry's fault in not executing their duties on time. "We were requested in early March to send our engineers for the final verification and so that shipment could pass …components of which are in Guyana, the engines are in Guyana the pumps cannot be shipped until our engineers verify that they have been fabricated in accordance with specification", he explained.
"Because of out lateness in going to India (this) extended that contract for one month so shipment would occur once our engineers complete that…we pay upon verification of equipment and only then we would instruct the bank to do the payment", he added .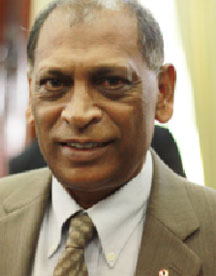 However he explained that other areas of the contract have been favourably completed and that he anticipates that the issue of the pumps and delivery will be resolved soon. "Six were delivered before March and components had arrived in December…The final set to complete those sets arrived two days ago", Ramsammy said.
Another area of concern was that of the Guyana Sugar Corporation which saw a series of questions being posed by opposition members as that entity has seen deficits and poor production over consecutive years.
Ramsammy also informed that $142M went into additional works on the Skeldon Sugar factory.  This had been seen as controversial expenditure as it had been felt that the Chinese contractor that had built the factory had not done a proper job.
A Partnership for National Unity's Shadow Minister of Finance, Carl Greenidge, made reference to a plan proposed in 2010 for the sugar sector that has raised concerns. "The plan seems to take no notice of the concerns that have been  made by a variety of observers in and out of the field…" Greeniage said.
Ramsammy replied "Indeed the turnabout plan of 2010 has not given us the results that we expected so I am not going to stand here and say it did. There is a revised plan that we are working on and some meetings have been held and a draft strategy is being prepared. It is my intention and I have been talking to the board that we must now open that for further inputs once the draft is prepared…for further consultations."
Alliance For Change MP Dr. Veerasammy Ramayya wanted to know if Ramsammy felt that the company was a profitable one which saw Ramsammy telling the house "In terms of profitability I don't expect GuySuCo in 2013 to come out with a profit".
He said that the plan is being revised and areas such as accelerating work during seasons to accommodate unpredictable weather patterns were being looked. "The fact that GuySuCo needs to plan for crop season…this has been the traditional plan. Clearly the experience of the last couple of years have shown that with the weather pattern that we have those crop lengths are not suited and we need to adjust those lengths",  he said.
Greenidge advised the Agriculture Minister to ensure that an apt recovery plan is produced before planning areas of finances as most times his projections are off. "When you look back at the explanation he provides the reality doesn't lend support to the accuracy of the information …(you) have to  fashion a recovery plan before you fashion finances", Greenidge admonished.
Around the Web