A 33-year-old Mocha Arcadia man died hours after he was allegedly stabbed once in the region of the chest during a drinking spree. It was alleged that he made repeated sexual advances on an 18-year-old mother of five who could take it no more.
Dead is Mark Anthony Fredericks of Field 13 Mocha Squatting Area or Mocha Backdam as it is commonly called. His mother Rita Fredericks said that he died yesterday morning after being stabbed by a female teen some time around 2am that day.
Neighbours said that the man and his assailant were "sporting on rum" at the nine day celebrations of a friend from the same area when the man was stabbed with a kitchen knife. "They deh drinking up de rum an sporting through and like something happen. Like he try to feel up she… and she stab he… but he go home and bathe and change off and nobody ain't take nothing for it… This morning he get up and busing up man, then next thing we hear when he gone back home is he dead" a neighbour told Stabroek News.
When the alleged killer was being escorted out of the area by police, relatives of Fredericks shouted obscenities at her while she told them to "Shut up if you don't know anything." She appeared to still be under the influence of alcohol as she giggled throughout, was pink faced, had an unstable gait and smelt of liquor. However, she walked over a mile from the crime scene to an area where a crowd had gathered before being taken to the police station in a vehicle with the police.
The reason for this police said, was because she claimed she was uncomfortable travelling in a vehicle with only policemen and no women.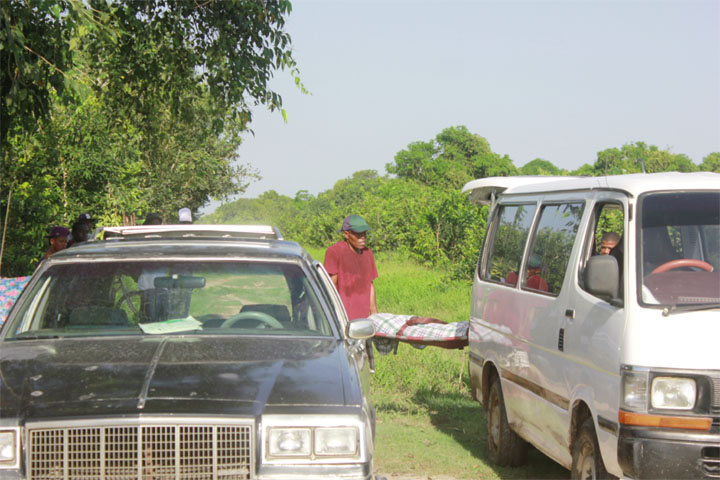 It was also said by persons in the area that the woman was some four months pregnant and currently being investigated by the welfare authorities following a criminal act allegedly committed against three of her children. This too occurred while under the influence of alcohol.
Villagers informed this newspaper that both the dead man and his alleged killer had substance abuse problems.
They said that she was an alcoholic and he a drug addict. He had recently been charged for torching his parents' home after they had refused to give him money to support his habit.
His mother Rita Fredericks told reporters that her son was also ill at the time of his death and had been suffering from tuberculosis after returning from Guyana's interior some time ago. She said that when she returned to their home she saw him with a cut on the left side of his stomach and she tried cleaning it. She advised him to seek medical assistance but he refused. He died at home some time mid-morning yesterday.
Around the Web