The family of murdered prostitute Wesley Holder believes he was targeted because of his lifestyle and there is little hope that the case will be solved after the detention and release of a teen boy who reportedly confessed to being present when the crime occurred.
Holder's aunt Paula Niles told Stabroek News that the teenager, a relative of the dead man, had reportedly implicated three persons, but added that police said they were forced to release him based on the advice of the Director of Public Prosecutions (DPP).
"They said how the DPP said there is not sufficient evidence and they say how the boy said he never tell he auntie nothing," she explained. "After the police go and arrest he, I was relieved because I say we get justice," she added.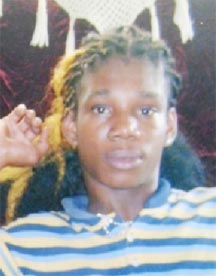 Holder, 19, of Cross Street, Werk-en-Rust, was found dead clad in a green fishnet dress on January 11. It appeared as though rigor mortis had already set in—an indication that he had been dead for some time. A post-mortem examination found he died from haemorrhaging and shock as a result of stab wounds and blunt trauma from a blow to the head.
Police officials told Stabroek News that like all of the outstanding unsolved cases this one is still on the radar of investigators. One official said the main challenge is the lack of eyewitnesses to the crime and without these it is difficult for the police to find a concrete lead.
According to Niles, the teenager and the three persons he allegedly implicated frequented the Werk-en-Rust area and she believes they had a disdain for persons like her nephew.
Holder was a well-known prostitute and like many others he preferred to leave home only at night since during the day people like him are targeted and victimised.
Niles recalled being contacted in April and told that the teen told his aunt that he had killed 'Ole Boy' (Holder). Based on the information this newspaper received, the young man first told a friend and that friend travelled to Essequibo and told the aunt.
According to Niles, contact was made with the aunt, who is known to Holder's relatives, and she confirmed the claims. "She tell we everything straight," Niles said, while adding that the aunt later went to the police at Anna Regina and gave a statement about what she was told. It was reportedly related to her that her nephew and three other men, who hail from Kitty, Timehri and West Demerara, respectively, committed the act. She claimed the teen said he stood by while one of the trio used a survival knife (commonly called a "Rambo" knife) to slit Holder's throat. "They just murder he and tek off he finger ring," she said.
Stabroek News was told that police subsequently went to the Essequibo home of the teen and arrested him. The source said that after being detained for one day, the teen was transported to Georgetown, where he remained in custody for another day.  He was eventually released, however.
Information is out there
It has been almost five months since the killing and Niles said the police are yet to make contact with relatives to give an update. Further, she said that while the case shows no sign of movement, she is certain that information is out there and that it will surface at some point.
She said that the only other development in the case occurred days after Holder's body was found when two boys, who were said to be the last persons seen with him in the vicinity of St George's Cathedral, were detained. Like the teenager, they too were released because of insufficient evidence, she said.
While Holder's gold ring was missing when he was found, Niles and other relatives do not believe that this was the motive for his death.
"I don't know what going on. Every day I does cry fuh he. Is people right hey do this thing," the woman sobbed. "This thing really hurtful. All we does do is cry all the time," she said, while opining that she doesn't believe anyone will ever be charged with Holder's murder.
She said that based on what she is hearing, there are people who know who killed Holder. "I use to warn Ole Boy to stay away from people," she recalled.
Niles noted that Holder had a brutal death as "all he eye dig out. Like they push they finger in he eye" and he had "bout 20 something juk." She said that despite the wounds to his head and the multiple stab wounds, there was hardly any blood at the scene, which she found strange.
Niles questioned the absence of the blood at the scene and said that she could not say if he was murdered somewhere else and his body dumped after. She said that another strange event was the presence of a bloody sheet at the spot where Holder was killed. She said the sheet was placed there after his body was removed.
"I don't like how he go down at all. I glad if he could come one night and say auntie this is de body that kill me," she said. She said that even if someone had a problem with Holder, particularly his lifestyle, it was no cause to kill him. "What they kill he fuh?" she said, erupting into sobs.
"The police ain't doing nothing. I glad if they could really investigate and find the killers. It hard how they tek away meh heart and soul," she said, while calling on police to investigate more so that they can get to the bottom of the matter and ensure that the family gets justice.
Around the Web