After finishing school and tagging along with her mother to the Guyana Mangrove Restoration Project headquarters at Victoria, East Coast Demerara, 19-year-old Theola Fortune was given an opportunity to become a tour guide.
She began by learning about the various types of mangroves and their functions. And while her journey began at the Guyana Mangrove Restoration Project (GMRP) and evolved into participation with the Guyana Mangrove Producers Cooperative (GMPC), Fortune soon found that volunteering was where she needed to be.
Last Monday, Fortune commenced the planting of 6,000 seedlings. She said she had nursed the seedlings until they had reached the desired height—30 centimetres—and planted 60 seedlings along the Victoria area where some of the mangroves were sparse. Fortune noted that it was by trial and error. "I planted the 60, but 20 or so washed away. I am learning as I go," she said.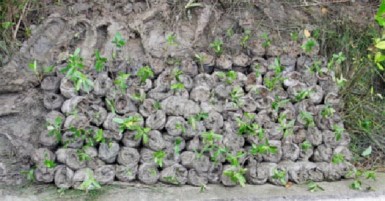 Fortune told Stabroek News that she used seedling bags that had been unused by previous teams and mud from the Victoria koker. "… and the shade on the other side of the seawall [acted] like a nursery," Fortune stated. "When the water comes in the seedlings get wet, but the water recedes and then the seedlings stay right there on the wall and grow, that has been the easiest part."
The young woman said she had help from two University of Guyana students along with her brother and sister, but "getting young people in the area to volunteer is really hard because they want to be paid".
She said, "The mosquitoes are terrible, but it is worth it. I really just wanted to find something like this to do and it really ended up working out. I just wish more young people in the area were interested." Fortune said she was hoping to attract more volunteers especially as the GMRP was concluding.
Chairperson for the GMRP, Annette Arjoon-Martins stated that the project was going to look at project funding for the future. She noted that while Fortune was volunteering the mangroves have proved fruitful as a basis for micro enterprises. "The volunteers can plant the mangroves, but once they reach three feet they should be compensated for that which they planted," Arjoon-Martins told Stabroek News. She said that at three feet mangroves were considered viable and there was little chance of them failing to survive at that point.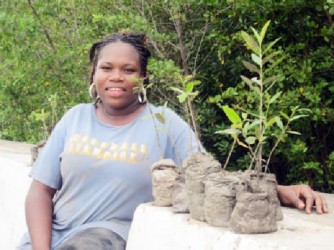 Fortune plans on completing the planting of the rest of her seedlings over the course of the next few months. For persons wishing to volunteer, she said contact information will soon be available on the GMRP website, but contact can also be made directly with her by calling 677-7956 or 229-2118.
Around the Web