President Donald Ramotar yesterday called for level heads among the country's political leaders as he once more appealed for support for large infrastructure projects, such as the Amaila Falls Hydropower Station, the Marriott Hotel and the Cheddi Jagan airport expansion, saying they are necessary to make the country competitive.
He made the call while delivering the feature address at the launch of GuyExpo 2013, at the Guyana International Conference Centre, at Liliendaal. The expo, which is a collaboration between the Ministry of Tourism, Industry and Commerce in partnership with the Guyana Manufacturers and Services Association (GMSA), will be held from October 3 to October 6, 2013 at the Sophia Exhibition Complex, under the theme 'Advancing Productivity through Innovation, Modernisation and Expansion.'
Ramotar used his address to speak of the need for cheaper energy to allow the manufacturing sector to meet its potential. But he appealed for level heads across the political divide so that there could be cooperation on the Amaila Falls hydroelectric project and the others.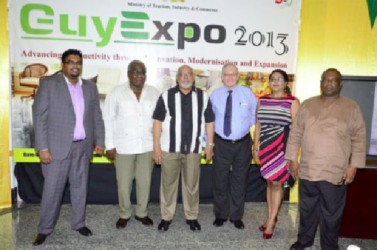 "The possibilities are great. Our potential is enormous. Everything lies within us and as I have said before on other occasions I am ready to sit down and work with all [sides]. All I ask is that we put aside our egos and hang ups and remember that there are thousands of Guyanese who look to us to end poverty in this country," he said.
The President said that Guyana must move away from being just producers of raw material to producers of finished products. "And for that we need new infrastructure."
He said that Guyana has moved from being a Heavily Indebted Poor Country (HIPC) two decades ago to being one that is now described as lower middle income. "But we cannot be satisfied with that status and even though we recognise that we have come a far way we still must aspire to go even [further]," he said.
"I know that we have the human talent, we have the conditions in our country that can make us in the not too distant future into a developed country," he said. "To do so, our infrastructure that we have is not enough, we need new infrastructure so we could go in the direction of finished products and new products," he said. "That is why we need new roads, we need to integrate our country more and more, using transportation and communication sector," he said.
Ramotar said too that tourism is also emerging as a very important sector in the economy and it has huge possibilities and great room for expansion and development. "But we have to also create infrastructure for that including the Marriott," he said.
Also speaking at the launch of the annual trade and investment show, acting Minister of Tourism, Industry and Commerce Irfaan Ali said that Guyana must prepare itself to be competitive and to access the vast markets of South America.
He said that to be able to become competitive, Guyana is embarking on a number of projects, such as the expanded airport at Timerhi and the Marriott Hotel.
"These investments must be made today," he said, noting that they will ensure that the country is competitive in the later years. "The modernisation that we speak of must be linked to a diversified tomorrow," Ali said.
"All of us must get into the discussion about these projects," he pleased. "I urge that all those who have views on these projects to share them," he said.
Around the Web