The charred body of a woman was recovered from the rubble after a fire razed two houses at Plaisance, East Coast Demerara early yesterday and relatives are urging a thorough investigation as they believe that foul play is involved.
Dead is Susanne Sylvia McNeil, 37, of 72 Victoria Road, Plaisance. The house where she was the lone occupant as well as the neighbouring house where Avery Adridge and her two children, Dorando Daniels, 13, and Doquendo Daniels, 9, lived, were reduced to rubble by the fire which began sometime after 3 am yesterday.  A third house belonging to Johan Joaquim was scorched on the side closest to the flames. Adridge operated a shop at the bottom flat of her home and losses are said to run into millions of dollars.
The origin of the fire is not clear and the fire service and police are investigating. Many residents had varying views as to what could have caused the fire and it was noted that at the time, power was on in the community. Susanne had until August to leave the home, according to a relative.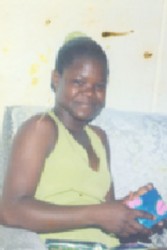 "I ain gat a clue how it really started but…I want to believe (it's) some foul-play thing because if she de just sleeping and the fire start and she wake up, she is a strong person," said a grieving Leyland McNeil who said that his sister would have rushed to the back or front doors or window to escape the flames.  He pointed out that the house has no grill. "I don't know if somebody went in there and injure she or even if she dead before the fire even start, I don't know…because where she bedroom deh is not there they find she. She was somewhere in the hall and she alone does live," the man said. "I can't see how she dead."
Recalling how he learnt of the fire, McNeil said that he received a call at around 3:45 am yesterday. He lives several streets away from his sister. He said that when he arrived at the home, the building was on fire and he thought that Susanne had come out. He said that he looked around for her but could not locate her and subsequently left.  "When I come home back, a friend come here and tell me, he seh my sister get bun up in the fire," the man recounted. He said that when he returned to the spot, he was shown the corpse on the ground.
McNeil said that he wants a proper investigation to be done because a lot of what is being said is hearsay. He said that persons were suggesting that his sister was burning candles but also some had said that she had escaped the fire. "It need to be investigated properly because number one I feel she was even dead before the fire start because she was to come out of that fire…she wasn't no feeble person, she was a real strong person…she was to come out of the fire," he asserted. Even if she was unable to, she would have been at the door trying, he said.
"Something definitely wrong there, somebody went in deh and kill my sister," McNeil stated. He added that he told the police but they told him he "can't worry with dah" because they have to do their investigation.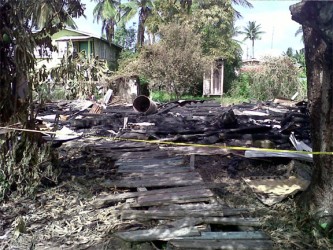 The grieving man said that he last saw his sister on Saturday and she was acting normal. "I does call she out every day when I pass out," he recounted. He said that his sister lived alone and her former partner had gone overseas a few years ago. She had no children. McNeil said that his sister had not experienced any robberies in the past but used to complain that persons were throwing things at the house and she had filed police reports. Susanne lived at the house for over 20 years, he stated. He said that while he was not sure of what had happened, his sister had reached an agreement with the owner's representative and was supposed to vacate the building in August.
Meanwhile, McNeil said that while at the police station, he heard ranks saying that they found candles on the ground but he asserted that this is hearsay and he would want to see it. An autopsy is expected to be done this week.
At Adridge's home at the time of the fire, only her two sons were there as she was at a wedding. Yesterday they were staying at their grandmother, several streets away.  "We went watching TV and we hear glass breaking and all two (of us) get up and we go outside and we see how we house (burning) down," Dorando related.
He recalled that a cousin and his friends began a bucket brigade but they were unable to save anything. "Everything done with," another relative, Simone Adridge, said. "They had to run, they couldn't look to save anything." Apart from the items in the shop and household appliances, money and five freezers were destroyed. They said that the fire spread fast because the buildings were wooden and old.
At Joaquim's home yesterday, he was cleaning. The fire severely scorched a side of his home and destroyed windows.  Residents had pitched in to rescue items from the home and he was thankful. "Most of my things dem got damage when they throw dem out," he said. "Dem fire police really work for their money. If wasn't for the fire police, this house wouldn't be here today," he added while also thanking the residents who helped.
Around the Web