"We are like an unguided missile," Sydney Allicock, an Annai resident, said with regard to the issues plaguing the community.
Allicock, like other residents in the community, have been calling on the relevant authorities to look into and solve several issues affecting them.
Speaking to this newspaper after the commissioning of the GT&T cell tower at Aranaputa on Saturday last,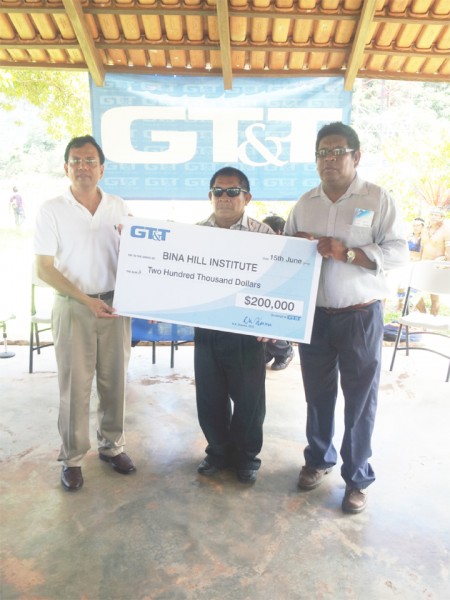 Allicock said that the one secondary school in North Rupununi lacked trained teachers and this was a hindrance to the delivery of quality education in the community. He said there was no library; hence students and teachers have no access to research facilities. He also pointed to the need to have computers in the school so that students can be taught information technology.
Residents said that with the introduction of the new cell tower in Aranaputa, they hope the government will provide computers to the community to assist the children so that they can be on the same level as their urban counterparts.
Alphonso Forde, Tourism Coordinator for North Rupununi, echoed the same sentiments as Allicock. Forde said that the students in Annai do not have proper educational opportunities. He added that the Bina Hill Institute needs more governmental support. The institute supports adult and distance education and gives the youth in North Rupununi a second chance to rebuild themselves. The first of its kind, he said the institute which was established in 2001 under the umbrella of the North Rupununi District Development Board (NRDDB) trains students in areas of natural resources management, tourism and forestry, which are blossoming in the interior.
Allicock stated that the lack of an ambulance in the area meant that persons cannot receive adequate medical attention in a timely manner. He said there is currently only one doctor servicing the area, and they would like to have at least a midwife and a health nurse who would be able to work when the doctor is on leave or not available.
Allicock, like other residents in the area, called for the establishment of a cottage hospital since there is no proper facility to cater to sick persons. Persons in the riverain areas are transported to the clinics on motorcycles, and this is dangerous, he said.
Toshao Mark George said that they would like to also make sure that medication is always available for persons at the health clinic. He stated that the doctor in the area is always running out of drugs. He added that there was a need for medication for persons with various medical issues such as diabetes and malaria.
Infrastructure in the area also needs a lot of development and improvement. The need for proper bridges was seen as a major concern. Forde said the area needs concrete bridges. "Instead of building 15 wooden bridges, invest in 3 proper concrete bridges," he said.
Around the Web