An agreement between the University of Central Lancashire (UClan) and the University of Guyana (UG) will, among other things, enable UG staff to acquire second and third degrees, thereby enabling them to provide a better quality of education to students.
The disclosure was made yesterday during the signing of a Memorandum of Understanding (MOU) between UClan's Deputy Vice Chancellor, Professor Dave Phoenix and University of Guyana (UG) Vice Chancellor Jacob Opadeyi, who said that the document will strengthen relationship between the two institutions.
Opadeyi said that the MOU signing was the result of months of work and two days of deliberations between UG and the United Kingdom university.
Just before the signing, Opadeyi explained that the MOU outlined a "roadmap" of how the tertiary institutions will go about addressing four areas: Staff Develop-ment; a News Centre; Staff and Students Exchange; and the hosting of an International Conference.
During the ceremony, Dean of UG's Health Sciences Faculty Dr. Emmanuel Cummings noted that there are staff members at the university who possess only a first degree. The MOU will ensure that these staff members are able to acquire second and third degrees, thereby upgrading their capacity and the level of instruction provided at UG, he explained.
Critics have long lamented the fact that many of UG's lecturers are in possession of just a first degree. This, it is said, limits the quality of tuition provided to students.
Cummings stated though that the MOU will facilitate lecturers going to UClan to read for their Masters and even their PhDs.
He said that over time, these initiatives in staff development will see an improvement in the quality of education provided at UG, and may even see the university being able to provide a potent graduate programme.
On the matter of student and staff exchanges, UG Deputy Vice Chancellor Phillip Da Silva explained that the MOU will facilitate the movement of UG students to UClan and vice versa. Such an undertaking, he said, will enable students to immerse themselves in a completely different culture, enriching their lives and providing a wider horizon in terms of research topics.
Addressing the setting up of a News Centre, UClan Professor Akintola Akintoye said that it will serve as a platform for the coordination of activities between UClan and UG.
He specifically identified sustainability and innovation as areas where the two tertiary institutions can collaborate. Akintoye said that it will be invaluable to Guyana and the UK if the two institutions are able to come up with new ways to better exploit natural resources while leaving sufficient amounts for future generations.
He said that the initiative can also see the creation of new ways by which society interacts with the environment, thereby fighting against degradation of the environment and, to a larger extent, addressing climate change.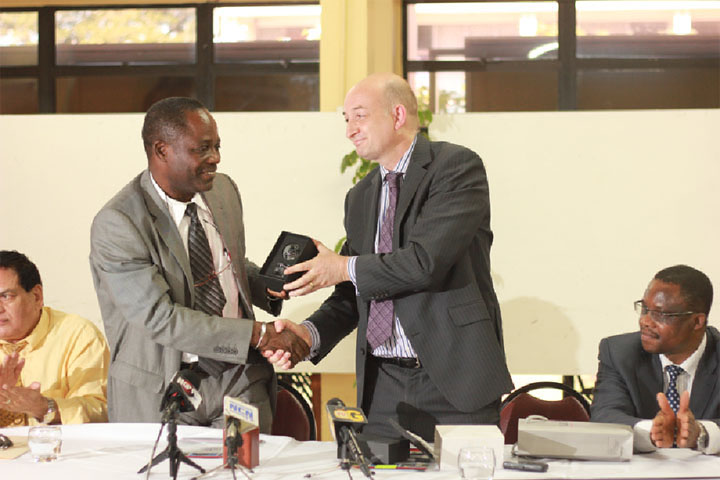 Dean of UG's Social Science Faculty Dr. Paloma Mohamed said that the agreement will see the hosting of a "major" international conference on environmental conservation.
Mohamed stated that learned contributors from all over the world, including the UK and Guyana, will take part in the event which is to take place during UG's 50th anniversary celebrations late next year or early 2015. She said that the activities at the conference will continue the work which Guyana has been doing, while building on work which UClan has tested in Asia and Africa.
Professor Jaipaul Singh of UClan yesterday said that after he completed his first degree education at what was then known as the `Cheddi Jagan night school' in 1974, he was forced to leave in order to pursue the level of post-graduate education he was desirous of possessing. He said that the initiative between the two bodies is especially important, since not many Guyanese can afford to leave the country to pursue higher education. "Many cannot afford to go abroad so it is important to have it here," Singh said.
The MOU, according to Opadeyi, will outline the "roadmap" depicting how UG and UClan will go about achieving their plans.
Around the Web