The Ministry of Culture, Youth and Sport on Wednesday evening launched the National Drama Festival, now in the third year since it was restarted and its director Godfrey Naughton said the organisers are working to create an industry.
Naughton told those present at the launch at the National Cultural Centre that the festival had humble beginnings and many people weren't interested. "We didn't make the case for why there should be a National Drama Festival," he noted, but added that they now have a product that they can boast proudly about.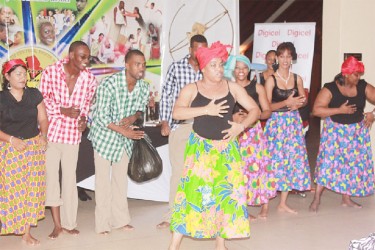 Naughton said too that work is ongoing on a handbook using models from festivals all around the world and that they have coined rules and procedures along with training that will take the festival to another level.
He noted that organisers are also working at impacting on the performances at Mashramani. "We hope the Mashramani also caters for the performing arts in general. We are heading more towards culture than just the tramping in the streets," he said.
Naughton further stated that organisers are not only focused on capacity building for the National Drama Festival but they are going to spin off into other areas. "We hope to produce an industry," he said.
Culture Minister Frank Anthony said that there were three plays staged when the festival started and last year the number had grown significantly to 52. "That was magnificent and I am sure that this year we will have even more," he said, while adding that it is time for Guyana to export its cultural product.
He also stated that creative industries are a substantial part of a country's economy and that the investments in schools to train people to become professionals will boost the economy. "This is a booming industry, an unlimited industry," Anthony said.
Jacqueline James, Marketing Manager at Digicel, said that the company was always happy to be on board with the festival. "Last year was a very successful year and as such we are happy to be on board this third year," she said. She stated that the company is geared towards developing the creativity of youths in drama.
Around the Web