Students of the Novar Primary School who excelled at this year's National Grade Six Assessment have praised their class teacher and headmistress, Shamina Charran for their success.
Although Charran was tasked with additional duties as the headmistress, her students still emerged successful. She said her students have tried and that while she expected better results she was pleased that her school has topped Region Five.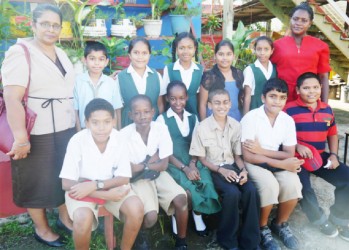 Six of the students achieved over 500 marks with another five gaining over 490 marks. While she was proud of their achievement she expected them to perform better.
Two students, Ariel Williams and Javon Reece have tied for the top position with 520 marks and were followed closely by Jasmine Muberuka with 519 marks. They have gained places at Bishops' High School but their desire was to attend Queen's College.
Amernauth Narine has gained 515 marks and secured a place at St. Stanislaus College and Suresh Persaud scored 513 marks and would be attending St. Roses High School.
William Mendonca and Christina Satram who have gained 505 and 500 marks respectively have been awarded places at Bygeval Secondary, a List 'A' School in Region Five. They have both opted to attend President's College.
They said they all studied a lot and plan to continue their hard work when they enter secondary school so they can continue to shine.
The other students who performed well are Sheetal Persaud, Kim Pancham, Chandradamala Singh and Mujaahid Zaman.
A teacher at the school, Magdalene Sobers-Williams who is also Ariel's mother said she was happy and proud of her son's performance.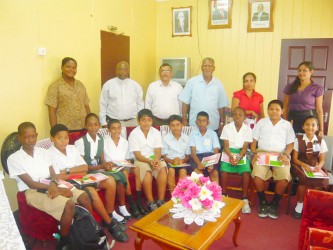 She acknowledged that it was not easy for Charran who had "worked beyond the call of duty," to "manage the school and carry on the class. I commend her and the other teachers who worked with my son from the lower classes…"
Blairmont Primary came second in the region with Jonathan Jewram and Ramzan Singh achieving 513 and 512 respectively.
Meanwhile, the top ten performers of the National Grade Six Assessment in Region 5 paid a courtesy call on the Office of the Regional Chairman last week. The students are from Novar Primary, Lachmansingh Primary, Bath Primary and Blairmont Primary.
Regional Chairman, Bindrabhan Bisnauth congratulated them and urged that they continue to aspire for excellence at their respective new schools. He also encouraged each student to call or visit the Regional Office at any time should they require assistance in any form.
Regional Education Officer Owen Pollard congratulated the students as well as the teachers and encouraged them to work assiduously as this is not the end but a great beginning.
1) Javon Reece                        –      Novar Primary                –            520 marks           –            Bishops High School
2) Ariel Williams                     –      Novar Primary                –            520 marks           –            Bishops High School
3) Jasamine Muberuka         –      Novar Primary                –            519 marks            –            Bishops High School
4) Amarnauth Narine            –      Novar Primary                –            515 marks            –            St. Stanislaus College
5) Jonathan Jewram              –      Blairmont Primary         –            513 marks             –            St. Roses
6) Suresh Persaud                  –      Novar Primary               –            513 marks             –            St. Roses
7) Ramjan Singh                      –      Blairmont Primary         –           512 marks             –            St. Roses
8) Zamani Collins                    –      Lachmansingh Primary  –           507 marks            –            St. Joseph
9) William Mendonca             –      Novar Primary                 –           505 marks            –            Bygeval Secondary
10) Roshema Jacob                –      Bath Primary                    –           503 marks            –            Rosignol Secondary
Around the Web