Acting Minister of Tourism, Industry and Commerce Irfaan Ali has said creating external linkages is crucial for local businesses to expand and cultivate investment opportunities at a forum held in Toronto, Canada as part of activities for the Guyana Independence festival.
At a Breakfast Network-ing meeting organised by the Guyana Tourism Authority and the ministry last week, Ali told an audience of over 50 participants that making external linkages will advance growth and create more avenues for investment.
According to a press release from the Guyana Tourism Authority (GTA), Ali said that many travel agents and tour operators in Canada will also be given the opportunity to network and to harness the potential that exists in the Guyanese market. The minister also praised the efforts of Caribbean Airlines to fill the gap that existed after Delta Airlines exited the Guyana market, the release said.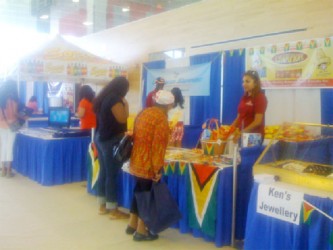 Several companies including the Roraima Group, Hurakabra Resort, Fly Jamaica and the Tourism and Hospitality Association of Guyana participated in the seminar. A special meeting was also organised with craft producers.
At the opening of the festival, Ali encouraged the thousands of Guyanese and Canadians to visit Guyana and capitalise on the numerous investment opportunities available.
He noted that investments in the Marriott Hotel and the expansion of the Cheddi Jagan International Airport were being undertaken to boost the tourism industry and steps have been taken to promote the country internationally including a five-page spread in Fortune500 magazine, documentaries on the BBC and the Discovery Channel.
At the trade and tourism expo which culminated the one-day festival exhibitors such as the Roraima Group, Hurakabra Resort, the  Princess Hotel and Casino, Go-Invest, Banks DIH, the Small Business Bureau, Mohamed's Enterprise, Leather Arts, Fly Jamaica and several Guyana travel, food and art and craft producers displayed their products.
Around the Web