The Guyana Sugar Corporation (GuySuCo) on Saturday held its 2012 "Honour's Roll" ceremony at which 28 workers were recognized, according to a release from the Government Information Agency.
The workers hailed from Albion, Blairmont, Demerara Sugar Terminal, Enmore,  La Bonne Intention, Rose Hall, Skeldon, Uitvlugt and Wales sugar estates.
They were felicitated at a ceremony at the Blairmont Community Centre for outstanding work.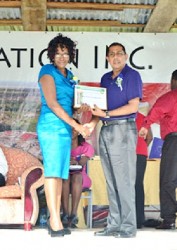 Minister of Agriculture, Dr. Leslie Ramsammy in his address to the workers said that total production for 2012 was 218,070 tonnes, a contraction of 7.8 percent. GINA said that he attributed this to industrial relations disruptions and inclement weather.  He said that dry weather aided the industry during the second crop; however, the first crop reduction of 33.4 percent could not be compensated for by the second crop growth of 13.3 percent.
Commending the workers for their hard work in sustaining the industry, he said, "The glory days of GuySuCo are not at an end…we will rise again to even more glorious days than we have had in the history of the sugar industry," he said.
This industry, he said, had to be brought out of its "almost death bed in the 1980s, and Government succeeded in bringing it back."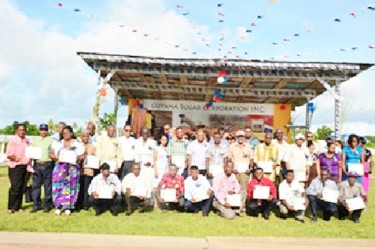 Ramsammy said he is optimistic that GuySuCo will prosper as never before. "We will make sure that we put this industry on the road of success…we have the capacity and the will to work closer together to have a greater understanding," he said, according to GINA.
The workers were also presented with certificates and other prizes.
Around the Web