Police sleuths are looking for a man in connection with the murder of Tyrone Boodhoo, who was shot dead on the Vryheid's Lust, East Coast Demerara seawall on Sunday night in what his family believes was more than an attempted robbery.
According to Crime Chief Seelall Persaud, while investigators have not yet determined a motive, they are pursuing a line of inquiry which points in the direction of a dispute between the two men.
Yesterday police invited the woman Boohdoo was with at the time of the shooting and his mother to the Sparendaam police station for further questioning.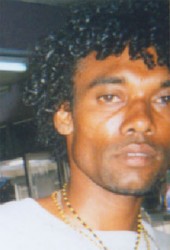 Police had said in a press release that at around 21:25 hrs on Sunday, Boodhoo, 32, of Better Hope, East Coast Demerara and a female friend, Martha Mohamed, 23, were at the seawall in the vicinity of Vryheid's Lust, when they were confronted by two men, who ordered them to lie on the ground.
Boodhoo attempted to escape, the release said, but was shot by one of the men. He was later pronounced dead on arrival at the Georgetown Public Hospital.
The perpetrators took away a cell phone from Mohamed and escaped, the release added.
At Boodhoo's Lot 66 Area H residence yesterday, an emotional Doreen Boodhoo said she firmly believes her son's death was not just a robbery gone wrong.
She said she was at home when she received a message that her son had been shot and was later told that the incident occurred at the seawall. According to Doreen, she immediately went to the nearby Sparendaam Police Station where a relative told her that the body had already been taken to the mortuary.
She said Mohammed, who lived next door to her, was also at the station and after being questioned, the young woman was allowed to go home.
Doreen said it wasn't strange for people to go to the seawall because it was a regular hangout spot.
However, the emotional Doreen said she believes the girl knows more than she is saying. "This was not a robbery," she said, fighting back tears. She noted that nothing was taken from her son. His cellphone, she said, was recovered and was at the police station when she went there on Sunday night. Added to that, she noted, he sustained two gunshot wounds, including one under the chin. The woman claimed that after he was shot, he held on to Mohammed's foot and begged her to take him to the hospital.
Candacy Singh, the mother of Boodhoo's only child, was the last person to see him alive. She explained that she was aware of the relationship between Boodhoo and Mohammed.
The woman, who is visibly pregnant, said he left their home sometime after 6 pm to go out with Mohammed. "I know that something was going on. He and I had broken up," she said, while adding that sometime earlier this month, Boodhoo and his mother had an issue which resulted in him moving out and sleeping in Bourda Market for two nights. Doreen denied this.
Singh said she was uncomfortable with this arrangement because she and Boodhoo shared a child together and she did not want her son to see his father living on the street. Singh said she spoke with her mother and a decision was reached to give him a room at their home to stay in until he found a place of his own.
He subsequently managed to find a place in the area for $10,000 and it was decided that when he got a job he would go and pay for it. Boodhoo was a mason. Singh said she even told him that she would cook for him because he would be unable to do so since he was working.
She recalled that on Sunday, a text message came to the cellular phone which she was given and Boohdoo gave her permission to read it. According to her, the text read: "Are you still going?"
He later left the house. According to Singh, he later called her and said he had gone to the woman's house and they later ended up at the seawall.
Subsequently, she said, Boodhoo sent her two messages and she texted him asking when he was returning home because she wanted to go to sleep. It was sometime after that that she was informed of the shooting.
She too is convinced that there was more to his death than robbery. Amidst tears, she said she cannot understand how Mohammed can say that she didn't see anything.
Police officers visited the scene yesterday morning but it is unclear if they managed to recover any spent shells.
Persons living in proximity to the section of the seawall where the shooting occurred told Stabroek News that they heard three explosions but dismissed them as the night before persons were lighting squibs there. They only became aware that something was wrong when they heard a woman screaming. One resident said that at this point persons still did not venture outside and instead summoned the police. It was only when the police arrived that persons came out.
Boodhoo, who is the eldest of four siblings, was nice and helpful, his mother told this newspaper.
She called on the police to do all that they can to ensure that the killers are caught and that she gets justice.
Around the Web