Cheques were yesterday presented by the Ministry of Culture to various villages to assist them in their emancipation festivities.
According to Jenny Daly, Co-ordinator of Emancipation Activities, this year a vast number of groups are on board. She stated that the involvement of the ministry was vital and it would be beneficial to the communities and the public.
Assistant Cultural Director Lyndon Ross said he hopes the programmes will reflect the work the groups have accomplished over the years.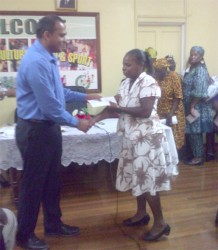 Minister of Culture, Youth and Sport Dr Frank Anthony said that this year is a milestone year. He added that a book, Hearing Slaves Speak, which contains records of the events that occurred during the period of slavery, will be published. Anthony mentioned that an exhibition was hosted earlier in the year which showcased the events of slavery around the world.
"It is important that we maintain our traditions," he said. He added that he was happy that the groups are able to restore cultural and religious traditions and it is critical to keep these traditions alive. He urged that any citizen who has any artefacts that are not of use to donate them to the African museum.
About 20 village representatives were present, which included persons from Canje, Mahaicony, Hopetown among others.
Emancipation Day is August 1 and this year marks the 175th anniversary. It is also the 250th anniversary of the Berbice Slave Rebellion.
Around the Web