Strategic Action Security is unlikely to receive any government contracts until criminal charges facing its embattled head Richard Kanhai are settled.
"I do not see him being offered a contract given that his litigation matters have not yet been resolved. I don't see that a possibility in his circumstance at all… the public won't forgive the government for that…," Minister in the Ministry of Finance Juan Edghill told Stabroek News in an invited comment yesterday.
His comment came after Kanhai's company placed bids yesterday to provide the Georgetown Public Hospital with security services. Its bid was opened when the National Procurement and Tender Administration Board opened tenders.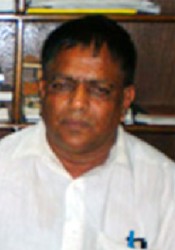 Kanhai, 58, was charged at the Georgetown Magistrates' Court last Friday with receiving a stolen government One Laptop Per Family (OLPF) Project computer and he was placed on $100,000 bail pending the determination of the matter.
A similar receiving stolen property charge filed against Kanhai had been dropped just the week before after a West Coast Demerara farmer told a court that he did wish to proceed with the matter. Kanhai was accused of receiving a stolen plough.
Edghill said that there was nothing prohibiting Kanhai from bidding for contracts. However, he explained that when the bids went to evaluators, the bidders then would be scutinised. "There is nothing that can stop anyone from bidding it is when it goes for evaluation is a different matter. There, questions will be asked on litigation," he said. "The actual regulation says that if a person is convicted only then… put it this way, somebody who is charged with something like that raises a level of questioning and I don't see him being awarded a contract as the practical way to go," he added.
Efforts to contact Kanhai for comment proved futile.
His employees at the company's headquarters in Queenstown told this newspaper that "all is well" with the company and that Kanhai's litigation had no impact on the company's relationships with clients.
Around the Web