Scores of indigenous people protested outside the Ministry of Amerindian Affairs yesterday calling for a revision of the 2006 Amerindian Act and for their rights to be respected even as government supporters said that much has been done to advance the rights of Amerindians.
International Day of World Indigenous Peoples was observed yesterday and dozens of Amerindians and their supporters converged at the Ministry's building at Thomas and Quamina streets and called for their concerns to be addressed.
The protest followed another on Wednesday outside of the Public Buildings ahead of the National Assembly's annual recess and an open forum on Thursday where a petition calling for the Amerindian Act to be revised was launched.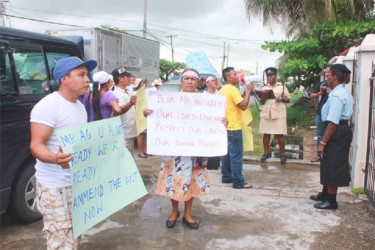 Conflicts involving Amerindian communities and miners have intensified over the past months and came to a head following a High Court decision in January that upheld a miner's right to continue with operations on titled lands within the indigenous Isseneru community in Region Seven.
The decision sparked protests by Isseneru villagers as well as indigenous groups and some Amerindian leaders but Attorney-General Anil Nandlall rejected calls for a revision of the law, saying that  government is not considering an amendment at this stage as this would be premature given the intention to appeal the decision.
Conflicts involving other indigenous communities and miners have popped up including at Chinese Landing in the North-West District and Kako and Jawalla in Region Seven. Traditional land rights have also been an issue of concern to some communities.
Protesters from different Amerindian communities marched with placards, chanted and shouted under the eyes of police. "You say we come from the bush, it belongs to us," was one of the statements written on one of the placards. "Amerindian Affairs is a puppet and a farce," "Peter Persaud is a puppet and a hypocrite," were among the chants.
Persaud, of The Amer-indian Action Movement of Guyana (TAAMOG), at a subsequent press conference that included Minister of Amerindian Affairs Pauline Sukhai and National Toshaos Council head Derrick John, said that the rights of indigenous peoples are not being violated and the indigenous people need to "count our blessings." Persaud, as well as Ashton Simon, of the National Amerindian Deve-lopment Foundation, said that Amerindians have progressed. Simon said that the positive elements outweigh the negative.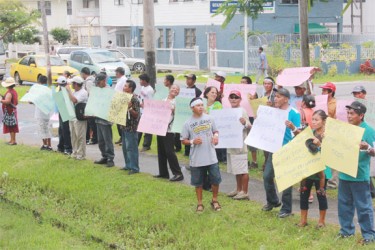 This was not the view held by protesters. "Many cases were ruled in the favour of miners instead of us. We protested many times before and we will continue to fight for our rights. We need the ministry to look into our matters and they ignore us, nothing is being done," Amerindian Peoples Association (APA) representative Tony James said. He referred to the Isseneru case and noted that at the time the land title was given to the community, the miner was already on the land.
In response to this claim, Sukhai stated that if miners mine on titled land, that act is legitimate. She pointed to Section 48 of the Mining Act which stated that: "A miner who wishes to carry out mining activities on Village lands, any river, creek or any other source of water within the boundaries of village lands; shall obtain necessary permission and comply with the regulations of the applicable written laws." She further explained this Act stating that if a miner regularizes his/herself (receives necessary documentation and meets with village councils and it is agreed upon that permission is granted by the village for miners to operate) then they can begin to operate.
Meantime, demonstrators also called for the Amerindian Act to be revised saying that it does not protect them. "Attorney General Anil Nandlall says he is not ready to amend the Act, well we are ready now," one protestor stated. Protesters said that government projects an image that all is good but this is not the case since if it was so, then they would not have any reason to protest.
Demonstrator Lewis Larson charged that Sukhai is supposed to protect the indigenous people but instead she is hiding from the people and the truth. "Who is she there for? A political party or for the people," he questioned.
At the press conference, which was held at the Guyana Forestry Commission, Sukhai stated that government will not forfeit its obligation to Amerindians. She said that Amerindians are in a much better position now than they were in the past. In relation to the Isseneru case, she said that this has been appealed by both the village council and the Guyana Geology and Mines Commission. She added that it is not a case where the government is not supporting the Amerindians as they have claimed, but rather once a ruling is granted by the court, the government cannot change that ruling.
The minister also said that government has turned a blind eye to Amerindians mining on their lands but urged that they regularise themselves. She noted that the minerals of the county are state-owned and the law is made to be unbiased. Further, she said that her office is open Monday to Friday and she can be contacted at any time during that period.
Around the Web