Forty-six children, between the ages of eight and 14 years, were yesterday awarded certificates after completing the seventh annual Guyana National Museum Children's Taxidermy summer camp.
The programme, which was held in into two phases from July 15 to 26 and July 29 to August 8, sought to enlighten and educate students about Guyana's museum wildlife and to establish awareness on environmental issues, museum heritage and archival records, the Government Information Agency (GINA) reported yesterday.
The students were also able to create and make simple museum exhibits and learn about preservation techniques used in taxidermy, it added.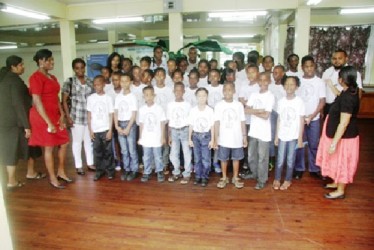 Permanent Secretary of the Ministry of Culture, Youth and Sport Alfred King was reported as saying that the children learnt to appreciate more of the museum and of what the country offers. "We are hoping that over time that more persons will want to gravitate to more of Guyana's cultural heritage," he added.
Administrator, Guyana National Museum Nadia Madho said that the programme is receiving more requests from younger children. She added that the museum will consider the comments and recommendations, as it continues to try and better each year's activity.
Madho added that the children will leave the camp, educated on many school related topics.
This programme was a collaborative venture with several stakeholders including the World Wildlife Fund (WWF), Iwokrama, Guyana National Trust, Walter Rodney Archives, UG Biodiversity centre, Environmental Protection Agency (EPA) and Jai Signs.
Around the Web