The woman who allegedly beat her partner to death outside their Plaisance, East Coast Demerara home remained on the run up the press time last night.
She is being sought in the murder of Clifford Singh.
The man's relatives told Stabroek News that during a visit to the police yesterday ranks assured them that the woman would be caught.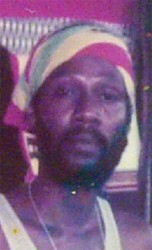 They said that police have told them that an all-station alert had been put out for the woman.
A neighbour had recounted seeing the woman beating the 35-year-old man with a piece of wood.
The resident said that after firing about six lashes the woman ran up the road in the direction of the line top after receiving a telephone call on her phone.
Residents had told this newspaper that the couple who have a 10-month-old daughter together fought frequently especially when they had consumed alcohol.
Singh's relatives however have painted the woman as the aggressor in the relationship saying that she was always jealous and had threatened to kill the man before.
Around the Web