Tiger Creek shopkeeper Ann Marie Carter was back before the court yesterday to answer a charge that she assaulted Simona Broomes, the president of the Guyana Women Miners' Association (GWMO).
The charge was instituted two days after Carter was remanded to prison on a human trafficking charge.
It is alleged that Carter, of Lot 84 First Avenue, Bartica, on April 21, 2013, committed a common assault on Broomes.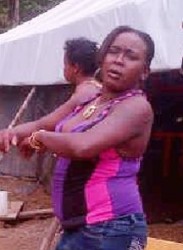 Prosecutor Ramsahoye Rambajue stated that on the day in question, Broomes had approached Carter in relation to human trafficking and Carter got aggressive towards her.
Broomes had alleged that she was assaulted by the shopkeeper during the GWMO's rescue of four girls, ages 14, 15, 17 and 18, from the Tiger Creek area in April.
Carter pleaded not guilty to the charge, which her lawyer, attorney Haymant Ramdhani, said was spitefully instituted.
He asked that Carter be granted self-bail, saying she is no flight risk.
Magistrate Fabayo Azore granted Carter bail in the sum of $15,000, however, she will remain in custody since she was already remanded to prison on the human trafficking charge. Carter was also charged with assault on Monday. Both charges also stemmed from the rescue of the girls. She was also charged in June with forcing two girls into prostitution in the Tiger Creek Backdam, which also resulted from the April rescue operation.
The case will be called again on September 18.
Around the Web