Proprietrix of Safari Inn, Yvonne Correia says she is of the view that Victor Ramsabad called 'Tun-Tun,' whose battered body was found on Tuesday in a passageway of the compound, had climbed up the shed to peep into the rooms of tenants and in a drunken haze, had probably fallen to his death.
Speaking to Stabroek News yesterday, Correia said that Ramsabad, who was employed as a handyman at the Friendship, East Bank Demerara inn since he was a teen, was in the habit of peeping into tenants' rooms."All of them tenants used to complain about him. This boy was disgusting. I used to talk to him over and over about peeping into them tenant's room but he never used to hear," she said.
Her husband Francis Correia, who was in police custody since Ramsabad's body was found on Tuesday, was released yesterday. "The police say that they had to hold him for 72 hours," the woman said.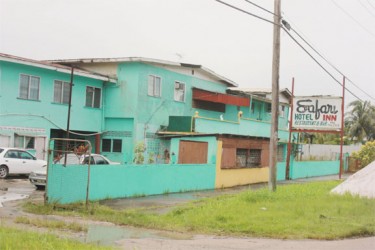 According to Correia, she does not believe Ramsabad was beaten but said that he probably fell from the shed that is located next to the building. "If he was being beaten, some one of the tenants would have heard him or he would have run in front instead of running to the back through that passageway. That is a desolate area, no one goes there. It had to be that he was peeping by the shed and fell down through there," the woman said.
She said that Ramsabad was always in the habit of peeping into the rooms of the tenants, particularly the females and would go and joke with his friends about what he had done. She added that she would always tell him not to come to the hotel if he was drinking but he never listened and would sneak into the compound and spy on the guests.
The woman said that she was not at the inn for the entire weekend and when she returned on Tuesday morning, a tenant told her that a couple came to book a room on Sunday at around 10:30am and while she was giving them the room keys, she saw 'Tun-Tun'.  Correia said that the woman told him that 'Aunty Yvonne' does not want him in the yard when he was drinking but after she spoke to him she did not see him again.
Correia said that the man was at a wedding house imbibing on Sunday and persons were saying that he was beaten there. However, she said that she went and did her own investigations and found out that nothing like that had occurred.   According to Correia, the man was in the habit of helping himself to articles that were in the bar and they had banned him from coming and he would leave for a while but return begging for another chance. "He used to pick up stuff from in the bar and then when we tell him don't come back he would say he sorry mama, give me a next chance. We had no problem with him, we know him since he was a teen. Even his mother used to talk to him and tell him to stop but he wouldn't listen," the woman stated. Ramsabad's body was discovered in the yard with suspected marks of violence on Tuesday. An autopsy is expected to be conducted on Monday.
Around the Web