Fire of unknown origin raced through a two-flat, four-bedroom concrete house at No 5 Village, West Coast Berbice around 9 am on Saturday leaving a family of five homeless.
Owner, Seretse George, 38, who occupied the building with his wife, Felicia George, 32 and their three children, Niomi, 15, Ruth, 10 and Noel, 6, was unable to quantify his loss.
The house was furnished with two sofa sets, two televisions and appliances among other items. They also lost a recently bought computer, a tablet, a Blackberry cell phone as well as the children's school supplies in the blaze.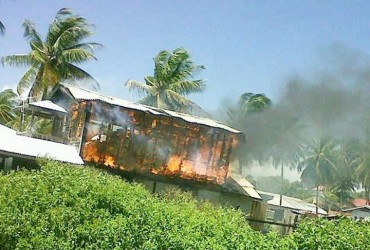 George, a gold miner said fire investigators pointed out that the fire started from the front bedroom he shares with his wife. They also operate a variety shop that was built in front of the house. Luckily that was saved.
The couple left home around 8 am to go to Mahaicony when they received a call that the house was burning.
George said he tried to stay focused and "I put on my hazard light and drove straight home." When he arrived the house was already burnt and a large crowd had gathered.
He was grateful that public-spirited men from the neighbourhood had already saved a minibus from his yard along with most of the furnishings from the two bedrooms in the lower flat. They were unable to access the upper flat.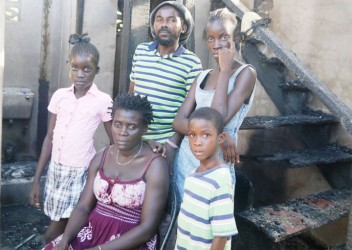 His elder daughter, Niomi said she had left her younger siblings at home and went across to the shop to purchase bread when a woman told her about the fire.
She "dropped the bread and money and started to cry" and the lady took her to the scene. A neighbour also shouted for the children to leave the house but they did not realize it was burning.
"They asked she wah happen and she had to come over and tek dem out the house. When dem children turn to run out then the big blaze start," the woman said.
Felicia said she is still puzzled about the cause of the fire because "my husband work hard and we struggled to make this house so I don't allow my children to play with matches."
Around the Web