An East Canje chainsaw operator was found hanging at a logging camp at Kurduni, Berbice River last Friday and police say that the "prime suspect" in his death is in custody after suicide was ruled out.
After an autopsy was performed on the body yesterday morning, Pathologist Dr. Vivekanand Brijmohan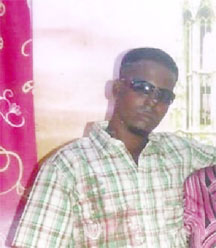 gave the cause of Chandradat Hussain's death as ligature strangulation.
Police subsequently reported that "diligent investigations" led to the arrest of a "prime suspect who is in custody assisting with the investigations."
Hussain, called "Deo," 33, of Lot 13 Goed Bananen Land, East Canje Berbice, sustained several injuries about his body, including a stab wound and wound to his head, this newspaper was told.
Narainee Chinoo, 52, told Stabroek News that the autopsy confirmed her worst fears.
Chinoo recalled that her son had left their home the previous Sunday morning to work on a grant as a chainsaw operator at Kwakwani.
On Friday night, however, she received a call from a female, said to be a secretary at the sawmill.
The woman confirmed that it was Hussain's residence but before she could say more, the call was suddenly disconnected.
Suspicious, Chinoo set off to find the owner of the sawmill but met the woman who called her on the road. She explained when she questioned the young woman, she was told that her son had fallen ill at work and his co-workers were making arrangements to bring him from the camp.
Chinoo, however, remained suspicious and continued to question the woman, who told her that "is nothing he just sick" but insisted that they go to her home and talk. She questioned why the girl would want to go to their home and after she persisted, she learnt that her son hanged himself. Chinoo said she could not believe the news and she suspected foul play.
Stabroek News learnt that lawmen questioned sawmill workers, which led to the arrest of the prime suspect, who had been the only person with Hussain.
The grieving Chinoo said her son was a very hard-working and loving man and he did not fight with anyone.
Around the Web