President of the Guyana Women Miners Organisation (GWMO) Simona Broomes, who has been hailed for her work in combatting human trafficking, was arrested yesterday after she was accused of pulling a gun on an alleged human trafficker who was days ago charged with assaulting her.
After being detained for more than five hours, read her rights and the allegation read to her, Broomes, who expressed shock at the arrest, was released on $10,000 station bail.
When contacted, Crime Chief Seelall Persaud confirmed the arrest to Stabroek News. He said that Broomes was "arrested for questioning into an allegation of assault."
An upset Broomes told Stabroek News from the Criminal Investigation Department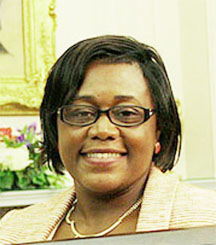 (CID) Headquarters, at Eve Leary, where she was being detained, that the allegation levelled against her was "malicious and deliberate."
She explained that just after 8 am yesterday, she received a telephone call from the a police official who instructed that she go to CID to meet with a female officer who wanted to  find out something in relation to shopkeeper Ann Marie Carter.
Five days ago, Carter had been charged with assaulting Broomes on April 21, 2013. This assault reportedly occurred when Broomes and other members of her organisation rescued four girls, ages 14, 15, 17 and 18, from the Tiger Creek area from a shop owned by Carter. Carter, who pleaded not guilty to the charge, was also charged last week with a separate assault as well as a human trafficking charge. She had been charged in April with forcing two girls into prostitution in the Tiger Creek Backdam area.
Broomes explained yesterday that at the time when the police called, she was in a meeting. After it had ended, she said she rushed down to CID and a young policeman later put the allegation to her that on April 21, she dealt Carter several blows to her body and lashed her in the face with a 9mm gun. In addition, Broomes said it was further alleged that she snatched a gold chain, weighing just over six ounces, which the woman was wearing at the time.
"I thought it was joke. I was shocked because I said that I had no physical contact with her," Broomes said.
Although she is a licensed firearm holder, she noted that she did not have her weapon on the day of the alleged assault and she was adamant that at that time she had no gun in her hand.
"I am not a thief. I know it's malicious and deliberate," she stressed, while noting that the police should investigate.
While she was speaking to this newspaper, she said that she had not been charged and that she was waiting for the Crime Chief to arrive as the police wanted to put her in the lock-ups.
She said that she did as the police told her do, as she is an upholder of the law.
At that point, she said that police had already started processing her, having filled out several forms.
"She can make whatever allegation (she wants). I know it is deliberate," she said, while adding that she has since made contact with her lawyers. "I think the whole thing is uncalled for. I am innocent I did her nothing," she stressed.
Broomes questioned what is so unlawful and wrong in the work that she is doing, while noting that she is fighting for vulnerable girls who are being exploited.
Broomes was earlier this year recognised by US Secretary of State John Kerry as one of the 2013 Trafficking in Persons (TIP) Report Heroes. The US Embassy said that Broomes had demonstrated "extraordinary bravery and leadership" in raising awareness about human trafficking in Guyana.
Around the Web