The Caribbean Examinations Council (CXC) has announc-ed the appointment of Dr Charles Mayenga of Kenya as the Senior Assistant Registrar for the Examinations Deve-lopment and Production Division.
Dr Mayenga replaces Dr Gordon Harewood, a Guyanese national who retired at the end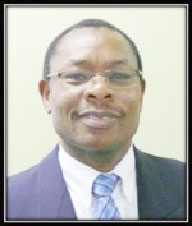 of April 2013 after a long and distinguished career with CXC.
"Dr Mayenga is eminently qualified to take up his post at CXC and brings a wealth of professional experience to the job," CXC said in a press release. He holds a PhD in Educational Measurement and Evaluation from the University of Toronto, Canada, a Master's Degree in Education Psychology (M.Ed) from the University of Manitoba and an Honours Bachelor's degree in Education (B.Ed) from Nairobi University, Kenya.
"As a world-class organisation, CXC endeavours to attract the best possible talent to enable the organisation to maintain and surpass the high standards for which it is known regionally and internationally," Dr Didacus Jules, CXC Registrar was quoted as saying in the release. "Dr Mayenga's track record and extensive expertise in measurement and evaluation will bolster CXC's resources in this area. The Council is therefore very happy to welcome him on board," he added.  According to CXC, Dr Mayenga has over 20 years' experience in educational assessments and high-stakes examinations. He previously worked with Assessment Strategies Inc in Canada as a Senior Consultant and interim director for the Testing and Measurement Unit. He also worked as the lead Psychometrician with the Education Quality and Accountability Office – an independent provincial testing agency for the province of Ontario and as Curriculum Assessment Consultant with the Ministry of Education and Training for the province of Manitoba.
Dr Mayenga has expertise in large-scale educational assessment programmes, which includes overseeing assessment design and statistics to support and enhance system-wide educational performance.
He also has several years' experience in teaching at high school, middle level colleges and universities. He has taught courses in curriculum development, research and teaching methods, testing and measurement, and statistics at the undergraduate and graduate levels.
Dr Mayenga is also an active member of the Council on Licensure, Enforcement and Regulation, where he serves as a committee member of the Credentialing and Licensing/Examination Issues sub-committee and the Examination Resources and Advisory group.
He is a member of the Psychometric Society and the National Council on Measurement in Education where he has served as a proposal reviewer and discussant.
Around the Web