On the eve of the visit of Venezuelan President, Nicolas Maduro, teams from the two countries held a series of meetings here yesterday on areas of cooperation and Finance Minister Dr Ashni Singh lauded the PetroCaribe fuel programme.
Speaking at the opening of a meeting between the delegation from Venezuela and Guyana, Singh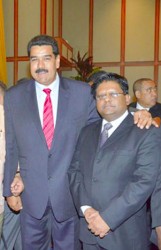 extolled the virtues of the PetroCaribe deal. This arrangement sees Guyana and other countries of the region benefitting from fuel purchases at terms that are concessional. Guyana and the other regional states also benefit from a fund coming out of the arrangement.
"Guyana has over the years enjoyed a special relationship with Venezuela and has shared much, both in terms of economic activity and in terms of values, common positions on international fora, collaboration on international events and collaboration on the multilateral level," said Singh.
"We value greatly the relationship with our Venezuelan neighbours and friends and we can think of many examples of practical manifestations of the richness and strength of our relationship. Perhaps more prominently is the PetroCaribe relationship," he said. He added that this is an initiative that proved to be transformational to the entire Caribbean region. "Guyana is an appreciative beneficiary of the PetroCaribe initiative," said the Minister. "We regard this initiative as a good example of collaboration and cooperation for mutual benefit," he said.
"We look forward with great excitement and anticipation to the visit of President Maduro … We anticipate that this visit will lay the foundation for further strengthening of relations between Guyana and Venezuela."
Speaking at the opening of the meeting, leader of the Venezuelan delegation Vice President of the state oil company PDVSA Asdrubal Chavez said that the cooperation between Venezuela and Guyana, which has strengthened with time, is something that late Venezuelan President Hugo Chavez created as an organ of integration for the Caribbean and Central America.
"It has touched us in this region undoubtedly and we have had very significant success that has carried us," Chavez, a cousin of the late president said. "In addition to PetroCaribe we have cooperation in agriculture, health, transport and education. We believe that this mechanism of PetroCaribe can complete a function that is very fundamental in what is the construction of the cooperation of our two countries," he said.
He added that the relationship is an open and frank one which does not require actions that go against a country's sovereignty "and this is how our Supreme Commander (the late President) dreamt of it."
Maduro and his entourage are scheduled to arrive at the Cheddi Jagan International Airport at 10 today and will be involved in a number of engagements at the Guyana International Conference Centre and at State House during the day. They are scheduled to depart this evening.
Around the Web