Six days after he was identified as the person who shot and killed local biker Kirk Davis, police yesterday issued a wanted bulletin for city businessman Rondy Jagdeo.
Police said in the bulletin yesterday that Jagdeo, 28, of Lot 159 Third Street, Alexander Village, George-town was wanted for questioning in relation to the murder Davis. The murder occurred on September 3 outside Davis's Eccles Housing Scheme, East Bank Demerara home.
According to the police, the suspect is of East Indian descent, stout and is fair in complexion. Anyone with information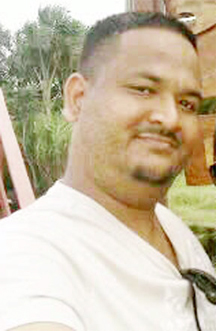 that may lead to the arrest of Jagdeo is asked to contact the police on telephone numbers 225-6411, 225-2227, 226-7065, 227-1149, 911 or the nearest police station.
All information will be treated with strict confidence, according to the police.
Although this may appear to be a sign of progress, persons close to the deceased are upset. Stabroek News was told yesterday by sources close to the family that the general view is that this should have been done from the beginning. With six days gone, it is suspected that Jagdeo might have fled across the border to Suriname, a country that he and Davis had visited on biking expeditions.
Police Commissioner (ag) Leroy Brumell on Sunday night assured mourners gathered outside the Brickdam Police Station to demand justice that the police were seeking the person believed to be responsible for Davis's death. "Y'all ain't hear is a Jagdeo do it?" he said, when asked whether the police were seeking the suspect and why no wanted bulletin was yet issued. Stabroek News was unable to make contact with the commissioner yesterday.
Persons close to Davis believe that the police are dragging their feet on the investigation.
Based on reports, Jagdeo had accused Davis of being in a relationship with his wife and went to the man's home to settle the matter. Reports are that when the couple arrived, Davis entered the car they were in to give his side. It was shortly after this that a female voice was heard screaming and shortly after that, the driver got out of the vehicle, opened the backdoor and began shooting.
The man then reportedly pulled the injured Davis out of the car and fired several more shots before driving off. The man's wife, who was also reportedly injured in the incident, was subsequently admitted a patient of a private hospital.  A post-mortem examination revealed that Davis was shot 16 times.
Around the Web