Blood evidence was in focus yesterday on the second day of the Florida, USA trial of Gerard Lopes for the murder of his adoptive mother, Guyanese Natalie Belmonte in 2011.
According to a report in the Sun Sentinel the second day focused on blood found in the victim's car, in her home and on the clothes taken from a trash bin behind a Pembroke Pines supermarket the day after the victim disappeared.
Those clothes, according to prosecutors, belonged to Lopes, 23, the first cousin and adoptive son of Belmonte, 43, whose body was found on July 20, 2011, three days after she was last seen alive.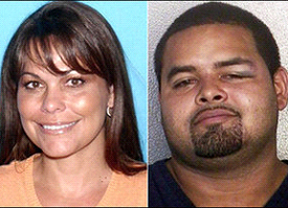 Lopes is on trial for first-degree murder and faces life in prison if he's convicted.
The Sun Sentinel report said that jurors heard yesterday from several police officers and Broward sheriff's deputies who investigated Belmonte's disappearance.
Former sheriff's detective Terry Gattis told the jury about blood found on the rear bumper of Belmonte's Lexus, on the steering wheel, the gear shift lever, the seats and the floormat under the driver's seat.
Detective Sherry Slagle-Grant told about the killer's effort to clean bloodstains from Belmonte's bedroom. "Unless you were looking for them and knew what you were looking for, you might not have seen anything," she said.
But crime scene investigators saw plenty, she said. Someone wiped down the floors in Belmonte's bedroom, in her foyer and in her bathroom. There was also blood on the driveway, the report said.
Detective Richard Engels testified before the court about three scenes related to Belmonte's murder. Apart from the house, he said, detectives discovered evidence in a trash bin behind a nearby supermarket. Among the discoveries were sheets from Belmonte's king-sized bed, towels from her home, a bloodied tank top and a bloodied pair of shorts.
The report said that the shorts matched the description jurors heard of the clothes Lopes was wearing when he and Belmonte attended a party on the night leading up to the murder.
The final crime scene was in a wooded area. The report said that it was in that wooded area that Belmonte's body was found, naked from the waist down, the clothes she wore to the party bunched about her torso.
Around the Web