By Jeff Trotman
Kwakwani logger Charles Thom, who encouraged the protest that saw the blockading of the road at Ituni, has publicly apologised for the clash between residents and police.
Thom made the apology while addressing a public meeting at the Kwakwani Workers Club on Thursday evening.
The meeting was called by the Region Ten Regional Democratic Council in response to police actions on Tuesday that included arresting fifteen people at Ituni, including a 14-year-old boy as the police removed a roadblock, which was set up by bus drivers plying the Kwakwani/Linden road along with Kwakwani and Ituni residents in protest at the poor state of the road.
Thom disclosed that he had been released on self-bail and although he had not yet been charged,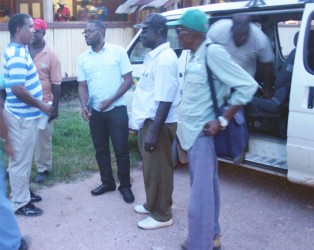 he was willing to face the consequences of his actions. He said things came to a head on Tuesday morning in Kwakwani after the residents there had heard about the police arrest of 15 protestors. According to him, all that transpired can only benefit those who are seeking a better Linden/Kwakwani Road. He also called on the people of Ituni to push for better roads in the village. He said the Amerindian village of Hururu, 14 miles further up river from Kwakwani, should have demanded assistance to build a road from a big lumber company that was operating there.
In making the apology, Thom said that when he addressed the protestors at Ituni last week  Monday in the presence of the commander and other police ranks, he had said that "we have to break the laws to change the laws."
He said that in a subsequent conversation with attorney Leslie Sobers he was advised to refrain from resorting to actions that could lead to anarchy.
Stating that the confrontation between the police and Kwakwani residents resulted from the police doing their job and the people doing what they could in pursuit of their interest, Thom opined that the police have been placed in a position where they should not be. "When we get a protest, the government should come and talk to us, our regional representatives should come and talk to us and when we ignore them then the police should come in. But the people (government) sending the police on we. We got to understand that the policemen are people just like us and I think what happened at the Waterfront was from my taunting Commander [Owen] Trotz at Ituni (on the previous day) because I was very aggressive…,' he said. "…So, my apologies to the police force for what happened but we have to stand up and hold our ground some time," he added.
Thom added that he was willing to face whatever consequences come his way. "…Because you does wake up some mornings and say, 'Man I ain't able with this… I got to make a stand.'"
Thom is, however reassured that the protest action has managed to internationally publicise the demand for a better Linden/Kwakwani road. "It could only get better from here," he said. "We hope that the government sees what's happening and they… discuss with our representatives, the RDC, so that we can have a better road."
He highlighted that a better road can improve business and education for Kwakwani residents. He referred to a businessman from West Coast Berbice, who wanted to do business at Kwakwani but was deterred by the rough, four-hour journey between Linden and Kwakwani.
He also pointed to a former Kwakwani resident who was returning on vacation and got caught in the blockade and had to go back to the United States without enjoying his vacation at Kwakwani.
Adding that people want to branch out into other forms of economic activity such as farming, Thom said they are deterred by the bad road as their produce would suffer from damage on the journey from Kwakwani.

Also arguing that the road is a humbug to tourism, Thom said: "People are dying on the road. Over the past two weeks, two people died on the road as they were being transported for medical attention in Linden. So, we got to hold strong and ensure that we support our leaders who are negotiating on our behalf."
He said there will be other protests because that is the only way that Kwakwani's people will get attention but it must be structured better. "We got to know who we targeting.
We can't target our own people because we'll lose support. We can't have people coming inside our camp and inciting Kwakwani people against Ituni people. We can't allow these things. All of us suffering and to get things better all of us got to stay strong and united," he said.
While thanking all those who participated in the protest, Thom also criticised some people who planned the protest "and when the going get hard they ran."
Around the Web