An elderly Corentyne rice miller was shot dead on Tuesday evening while driving off armed intruders from his home and police held three persons yesterday for questioning.
Lallapersaud `Lall' Juggerdeo, 74, of Lot 79 No. 0 Village, Corentyne, Berbice, was shot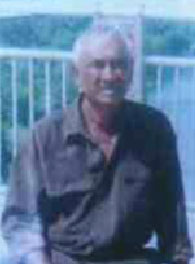 by one of the four intruders as they fled his property after 8 pm.
Juggerdeo, who was shot on the left side of his chest, was rushed to the Skeldon Hospital but died on the way.
A senior police officer confirmed yesterday afternoon that three persons are in custody for questioning, while detectives told reporters at Juggerdeo's home that they would be working diligently to solve the murder and urged that persons with information come forward.
They managed to recover two live 12-gauge shotgun cartridges and two spent shells in the vicinity of the back gate of the property, through which the men fled. The intruders left empty handed.
Crime Chief Seelall Persaud told Stabroek News that one of the four men was armed with a shotgun and the others had handguns. He said after they invaded Juggerdeo's property, an alarm was raised and Juggerdeo, who was in the top flat of his home, confronted the men on the lower flat. He pelted them with a pineapple and chased after them as they fled. However, the men discharged three shots as they fled and Juggerdeo was hit at his gate, according to Persaud.
Scores of villagers gathered at Juggerdeo's home yesterday to offer condolences to the family.
The newly-widowed Sheila Juggerdeo, 73, recalled that she and her sister along with a few relatives had returned from church when the attack occurred. "We were gaffing and this person came in. He deh crawling and I ask, 'Whey you a go?' But the body nah ansa and me holler, 'Oh god! This a thief man!'" she said.
The traumatised woman added that after she shouted out, they were confronted by three other men. Three of the men used handkerchiefs to mask their faces. "Another one come in but he didn't had on mask, just a blue shirt and a jeans an he tell me that is me he want and he take me an carry me inside," she said.
Somwattie Nandlall, who was sitting in a hammock at the time, said one of the armed men attacked her, pulling her hair and hitting her behind her head. But she managed to fight him off and ran for the street, where she also raised an alarm.
Juggerdeo, who was upstairs, peeped out the window and shouted at the men. He then went downstairs and saw one of the men holding his wife and he picked up a pineapple and threw it at them. She said after he threw the pineapple at the men, the man holding on to her  "loose meh an point the gun at meh husband  an start going back till they reach on the road and I faint an ent know wha else happen."
Basant Lallapersaud, 52, son of the deceased rice miller, said he rushed to his parents' residence after he heard all the commotion.
He told Stabroek News that when he arrived at the scene, he saw his father chasing off the bandits.
"He pick up anything he could get and a pelt dem," he recalled, while noting that the men did not retaliate and continued to retreat. As a result, he concluded that they were not "professional thieves."
Lallapersaud and his own son also began pelting at the home invaders. "Me son come an we ducking and pelting them with wood an brick an old iron an oil jar an when they reach on the road, they fire two shot with the long gun but me father still going to them and then another shot fire and ah me father say that he get shot," he said.
Before his father was shot, he said, his grandson was shouting at him, "Aja na go! Aja na go!" But the elderly man was determined to get the intruders out of his premises.
Lallapersaud stated that after his father was shot, he and his son turned their attention to him and hurriedly put him in the car and rushed him to the Skeldon Hospital.
Juggerdeo was a licensed firearm but did not use his weapon to confront the men. Asked why he thought the man did not, his son said it was very strange that his father did not use his gun. For Juggerdeo's family, it was the first time intruders entered the home.
Juggerdeo, a well-known rice miller on the Corentyne, had been the owner of Lallapersaud Enterprise and provided employment for approximately 50 persons in the area.
Many workers were yesterday seen making tents for a wake.  He was described as a strong and hardworking man. "Even though people does look after them workman and them workman know what they gat to do, he still has to go every day and watch over them," his widow said.
Around the Web