Chairman of the Linden Interim Management Committee (IMC) Orrin Gordon has described industrial action by Linden municipal workers as "misguided".
Gordon made the comment during a telephone conversation on Tuesday, after being told by Stabroek News that clerical workers of the municipality had held a sit-in on Monday and had threatened to bring out the entire town council workforce in industrial action the following day. The industrial action was in solidarity with Marlon Pearson, treasurer of the municipality, whose services were terminated on 6th September.
During Monday's sit-in, Samantha Greene, Vice President of the Guyana Labour Union,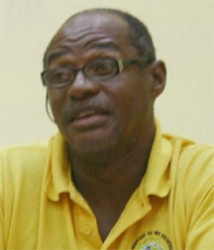 said a letter terminating Pearson's services, and which he received on 5th September, was signed by Minister in the Local Government Ministry Norman Whittaker. The union representative said Pearson was not given a hearing and the manner in which he was terminated did not follow accepted industrial relations procedure.
"The councillors are supposed to have a meeting where the council makes a decision to vote against for or whatever," Greene said. "The councillors did not have a meeting to vote for or against …."
She added that some of the IMC members were unaware of Pearson's termination. But when contacted by telephone, Gordon said the manner in which Pearson was employed did not follow statutory procedure in the first place. According to him, Pearson did not apply for the job, he was appointed by the minister despite reservations expressed by the Linden IMC.
Gordon said Pearson, who had been performing the role of treasurer for almost a year, was still on probation since he has failed to function effectively. He said a number of financial reports had not been completed and the town's annual budget for 2013, which should have been completed by mid November 2012, had not been completed until April, this year, although he received assistance from outside sources.
Emphasizing that several financial statements and reports are long overdue, Gordon said it became apparent that Pearson did not have the requisite training or qualification for the job. Reiterating that the manner of Pearson's employment was flawed in the first place, Gordon said the municipal employees should know that if there is grievance, one does not jump straight into industrial action.
Around the Web