A Partnership for National Unity (APNU) MP Winston Felix says that the government and Home Affairs Clement Rohee are to be blamed for the national security breakdown that has led to the current increase in criminal activities.
"It is the incompetence of a PPP government in power over 20 years and a minister who has been there over six years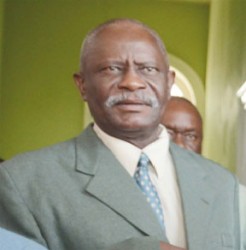 and did zilch for the security of citizens," Felix, a former Commissioner of Police, said during a press conference yesterday.
He also dismissed suggestions any suggestions that the opposition had any responsibility to bear for the situation. "I say flatly no!" he declared.
Felix recalled the February, 2002 jailbreak. "It is their Minister of Home Affairs at that time who allowed the prison officers to go and 'Mash' against advice and then the breakout came and they blamed everybody else except themselves for that debacle and then the handling of the escape situation is another issue," he said, pointing to the PPP/C administration.
He also questioned what progress Rohee had made in addressing the country's crime situation. "Show me one programme which has been mounted successfully in which we can give that gentleman a star. Let us see how many stars he would get," he said, while stressing that the issue at hand is the incompetent handling of the domestic security situation.
"It is a principled position—the minister is not producing. The citizens are suffering. That is why we have to throw him off and that is what we did when the no confidence vote was passed," Felix added.
He said that towards late 2012, the minister outlined a plan for the modernisation of the police force and it started off with things such as administration and succession planning. "Where you going with that? The police force needs investigative capacity, it needs strength…," he said.
APNU MP Annette Ferguson added that annually millions of dollars are budgeted and approved to boost the security sector but yet there are always issues such as lack of vehicles to respond to reports.
Meanwhile, Felix, when asked about the presence of guns in most of the recent crimes, said that police should do intelligence gathering and also identify the vulnerable areas. He said that it has been noted that for this week that there were gun crimes in Berbice, Montrose and Meten-Meer-Zorg. According to Felix, this clearly shows that the country's coastland is a vulnerable area and as such patrols need to be directed there.
He said too that an intelligence gathering system should also be developed. "The nature of these crimes today suggests that these crimes are well planned and executed and so traditional methods of responding ought to be enhanced and that is why I am advocating intelligence gathering, upon which sensible counter police operations can be mounted," he said. He also noted that getting the public's support is critical to police success in the crime fight.
He was also quizzed about the behaviour of licensed fire arm holders and he said that they should be responsible and follow the code of conduct given to them when they would have received their licenses. Some firearm holders, he noted, do not observe that code and they shoot "willy-nilly." He added that in the fatal Vive la Force, West Bank Demerara shooting of 15-year-old Ryan Persaud, it appears that the teen was shot by a licensed firearm holder.
Felix said that any misuse of a firearm requires an investigation and an initial seizure while the investigation is going on. If the allegation is proven, he said, that license is subject to be revoked by the Commissioner of Police.
Asked about the prevalence of unlicensed firearms, Felix told reporters that there is a "sprawling and literally unpoliced border in the South. In the North West, the rivers are also not policed. In the East or North East, people come and go easily without any fear that the will be stopped by law enforcement and with that freedom comes the opportunity to bring in illegal items such as firearms."
He added that time is now right for hinterland policing to be supported by an aerial component.
Around the Web