Ruel Johnson last night won the Guyana Prize for Literature for the Best Book of Fiction while other winners were poets Dr Ian McDonald and Cassia Alphonso, playwright Mosa Mathifa Telford and author Chaitram Singh.
As she delivered the 2012 Guyana Prize for Literature Judge's Report last evening at the Pegasus Hotel, Chairman of the Jury,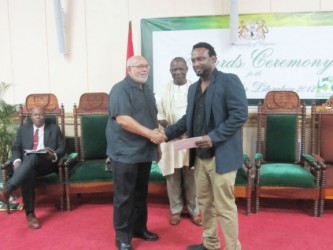 Professor Jane Bryce said that while local writers exhibit enormous potential they should make use of myriad guidance mediums available on the internet to assist them.
Her advice came against the background that no work was considered suitable for the shortlist in the category of First Book of Poetry and therefore no award was presented.
The Guyana Prize for Literature award ceremony last evening saw awards being bestowed to local writers in four categories.
In the Fiction category Ruel Johnson won for his book 'Collected Fictions', a semi autobiographical collection of short fiction that addresses racial and political tensions in Guyana and relationships and displacement.
Best Drama went to Mosa Mathifa Telford for 'Sauda' a story of a young black woman who goes into prostitution to find love she does not win from her mother.
Ian McDonald and Cassia Alphonso jointly shared the award for Best Book of Poetry for 'The Comfort of All Things' and 'Blackcake Mix' respectively. Mc Donald used his poems to muse on aging and mortality while Alphonso features life in Guyana from a Creole perspective.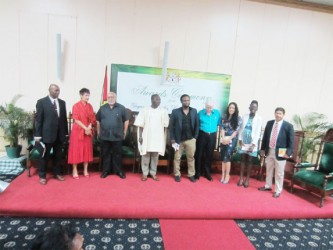 The award for First Book of Fiction went to Chaitram Singh for 'The Flour Convoy'. His was the only book shortlisted in the category.
The recipients of the Guyana Prize for Literature said the time had come for more local works to be used widely. Their thoughts were contained in the Acceptance Speech that was delivered by Singh who pointed out that featured in local work were global themes and issues delivered using varying writing techniques and styles. He also noted that young writers should align themselves with mature ones to tap into their wealth of knowledge.
President Donald Ramotar, who presented the prizes to all the awardees, also seized the opportunity to assure attendees of government's unwavering support for the Guyana Prize for Literature, despite speculation in some quarters.
In 1987 President Desmond Hoyte founded the Guyana Prize for Literature to encourage and develop Guyanese authors locally.
Around the Web