Camex Restaurants Incorpo-rated, the franchise holder for Church's Chicken, Mario's Pizza and Quiznos yesterday launched the newest addition to its chain of restaurants, Juici Patties at Vreed-en-Hoop, West Coast Demerara.
Today, Juici Patties opens at Church's Chicken, Camp Street and Camex vows to open Juici Patties shops at Linden, Bartica and Parika before next Monday.
Apart from Juici Patties, the Vreed-en-Hoop branch which will house Church's Chicken. This is Church's Chicken's thirteenth restaurant in Guyana other locations include Bartica, Parika, Linden, Mahaica, New Amsterdam and two on the Berbice-Corentyne coast.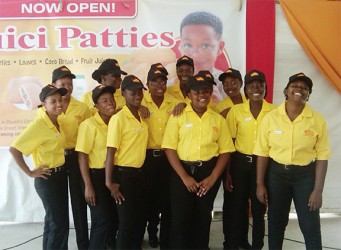 Operations Manager Lisa Insanally-Dookun noted that the Juici Patties franchise is the fourth to be brought here by Camex. She revealed that Mario's Pizza will be added to the Vreed-en-Hoop location before the year is out.
"Vreed-en-Hoop, a Dutch word means peace and hope and I find that very fitting for this company, the hope that we have of what we can bring to this community," she said.
Insanally-Dookun also added that in the seven to eight years of Camex's existence, its services have never faltered. In fact, she said, "The minute we touch down in an area, and we start and we operate, it automatically raises the bar for the other business in that area – we see things happening, we see development around us."
Export Manager for Juici Patties Jamaica, Jennifer Newman, said the partnership between Camex and Juici Patties was "a match made in heaven" since both companies share the same mission statement of serving the best quality.
She described the venture as "history in the making". "This is our first overseas franchise… all the others are distributors so the partnership with Camex brings the Juici franchise to Guyana and we're so happy that we will be able to bring to the Guyanese people, a great set of people, the best patties in the world," she said. "We look forward to great things happening and a long and lasting partnership."
CEO of Camex Restaurants Inc, Terrence Campbell, spoke of the importance of the West Demerara community to the company and how Camex plans on developing the regional hub within the next couple of months by including more franchises, an eating area and play park for children. Campbell revealed that the price for a pattie and drink amounts to $360, which is considerable cheaper than a value meal from sister-franchise Church's Chicken.
He also highlighted that the company will have no less than 17 Juici Patties restaurants by the end of 2014.
Director of Training for Camex Restaurants Inc Dawn Brathwaite described the opening as "nothing short of a miracle", highlighting the many tribulations and doubts that plagued the company and the Vreed-en-Hoop location before the opening.  It is estimated that the company employs well over 300 persons, a number that is expected to rise before the dawn of 2014 as it expands its restaurant locations. Juici Patties, a subsidiary of Juici Beef Limited is a Jamaica-based franchise with over 63 restaurants around its home base. Guyana is the first country to open an overseas franchise. However, Juici Patties has a network of distributors across the Caribbean; St Kitts and Nevis, Dominica, Grenada, St Lucia, Turks and Caicos and Antigua and Barbuda soon to come. It also has distributors in Canada, from where it sources its beef products, and they manage shipments to the United States.
Around the Web