President Donald Ramotar today urged European Union (EU) officials to undertake a reappraisal of the Economic Partnership Agreement (EPA) to determine if tangible benefits have accrued to the CARIFORUM signatory nations since it took effect five years ago.
GINA said that Ramotar was at the time addressing a gathering of diplomats from CARIFORUM (Caricom plus the Dominican Republic) member states and the European Commission who are meeting at the Guyana International Conference Centre (GICC) today and tomorrow to map out a seven-year partnership.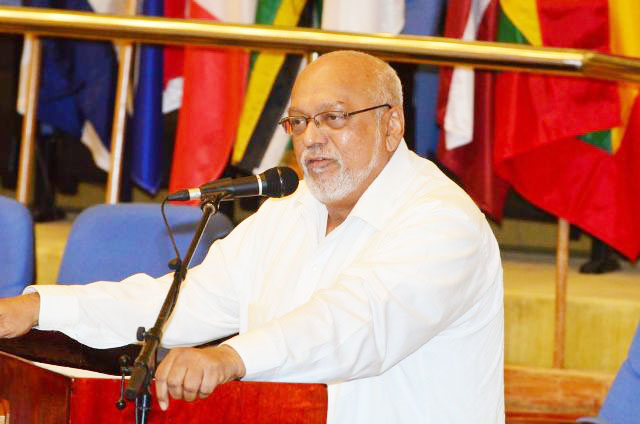 "I think it is time that the two-day meeting here take the time out to evaluate… whether any Caribbean country has actually benefitted in a tangible way from the implementation of the EPA, and if not, why," President Ramotar told the 11th European Development Fund  Caribbean Regional Programming Seminar this morning.
The EPA with CARIFORUM countries took effect in 2008 with Guyana and Haiti being the only two countries withholding support initially.
The Guyana Government under the leadership of then President Bharrat Jagdeo, had argued that the EPA had the potential to undermine the interests of the Caribbean Community (CARICOM) and Small Island States, impede co-operation between CARICOM and South-South partners and discourage a level playing field for trade between the EU countries and CARICOM since the former has greater advantages, GINA noted.
Jagdeo later advanced a proposal to amend the EPA for it to include a mandatory review of the deal five years after the signing and every subsequent five-yearly period, as well as a guarantee that in the event of conflict between the agreement and the revised Treaty of Chaguaramas, during the implementation of the EPA, the Treaty shall prevail, GINA said.
After the EU finally agreed to include the two clauses Guyana signed the EPA in October 2008 in Brussels.
Benefits to the Guyana economy in particular over the last five years have been dubious.
Around the Web