Seven men were yesterday charged with murdering Meten-Meer-Zorg grocer Zulficar Namdar during an armed robbery, days after a series of arrests stemming from recent attacks on the West Demerara and at Wakenaam.
Amid a heavy police presence at the city magistrates' court complex, robbery charge was also read against five of the accused and a woman for the September 7 armed attack at Wakenaam, where a businessman was shot, and a conspiracy to commit a robbery charge was read against two others held during a police stakeout on Monday.
Those accused of murdering Namdar are Allan Dorsett, of Lot 610 Zeelugt, East Bank Essequibo; Essan Lawrence, known as 'Muscle,' of Vreed-en-Hoop; Jermaine Williams, known as 'Yankee;' Delwin Croft, 32, of Lot 589 Tuschen Housing Scheme, East Bank Essequibo; Keiron Khan, of Parika Embankment; Samuel Bacchus, of East Ruimveldt;  and Andrew Callender, 34,of Meten-Meer-Zorg.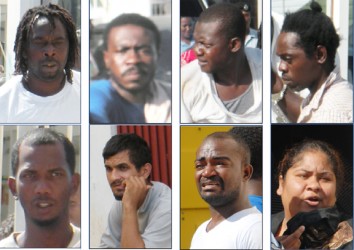 They were not required to plea to the capital charge when they were arraigned before Chief Magistrate Priya Sewnarine-Beharry at the Georgetown Magistrates' Court, where they complained of being beaten and tortured by the police.
It is alleged that on September 10, being heavily armed with guns, they entered the home of Namdar and shot and killed him. His friend and shop help, 17-year-old Stephen Mohammed was also shot during the attack, in which the men are accused of taking over $1M in cash and jewellery.
It is also alleged that on September 7, Dorsett, Lawrence, Williams, Croft and Khan, Bacchus and Cassandra Singh, being heavily armed with guns, invaded the home of Anand Danishore, a Good Success, Wakenaam businessman and inflicted a severe beating on his daughter Jamita Danishore during a robbery at his home in which $3.5 million dollars in jewellery and another $2.2 million in cash were taken.
They were not required to plea to the indictable charge of armed robbery.
Bacchus—the brother of Kirk Bacchus, the suspected robber who was shot dead during a confrontation with police at Meten-Meer-Zorg on Monday—and another man, Peter Christian, were also charged with conspiracy to commit a felony, being robbery.
The two men were held following a confrontation with police at Kastev Housing Scheme, where Kirk Bacchus was fatally shot during a police stakeout. It is alleged that both Samuel Bacchus and Christian were in command of different vehicles at the time of the confrontation and that they admitted to police investigators that they were "the transporters."
Heavily armed officers stood guard as the detainees disembarked the vehicle used to transport them to the court. Once before the magistrate, the men complained of being beaten and tortured and not being able to contact their lawyers.
Attorney Melvin Duke, who represented Dorsett, informed the court that his client was beaten and tortured, then forced to sign a statement. "My client is ill, your worship, after being locked up for more than the stipulated 72 hours," Duke said.
Magistrate Sewnarine-Beharry then instructed Prosecutor Bharrat Mangru to look into the matter and he indicated that he would ensure that the accused sees the prison's doctor.
As the men exited the courtroom, there was a larger crowd as word of their arrival spread. One of the accused held on to the guard rails to protest the treatment he received and it took the efforts of about five well-built officers to free him as his relatives and the family of the deceased traded insults in a tense confrontation.
All the accused were denied bail and remanded to prison until October 28.
Around the Web