An 86-year-old East Bank Berbice woman perished in a fire last night, despite a valiant effort by her 93-year-old sister and carer to save her.
Dead is Margaret London of 7 Cross Street, Islington, East Bank Berbice, who was confined to her bed. Her sister Olive London managed to escape and is now homeless.
The fire destroyed the entire three-bedroom home which the two seniors shared and Stabroek News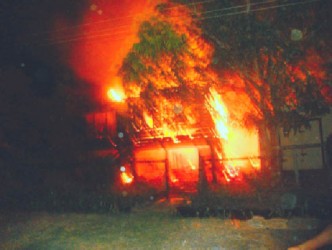 understands that it started in the third bedroom.
While the origin of the fire is unknown, it is suspected that it might have started from a light source in the home.
Olive London said that there was a short period of blackout and after the power returned she was taking tea for her bedridden sister whom she cared for (the sisters lived alone) when she felt "heat" coming from her room.
"[I]… think to mehself  wa kinda heat dis?" she said. She peeped into her bedroom and saw flames. She said she quickly threw some water on the fire, "but it grow mo big…".
The senior citizen said that after the fire started to grow she went into the kitchen to get some more water, "but meh fall down". Still, she got up and went downstairs to get water and that was when someone grabbed her and took her out of the yard.
Olive London said that when she saw the fire she had shouted and alerted her bedridden sister. She said knowing that, she tried to go back into the house "for Margaret, but they won't allow meh."
Weeping, she continued, "me nah feel well. Me sister get bun up."
The nonagenarian said she had no idea how the fire started.
Pastor Ryan Mapowan of Overwinning Bible Church who lives a stone throw away from the ladies, told this newspaper that he was jogging when he noticed the fire. He said he ran to the house along with some other men from the neighbourhood and they managed to rescue Olive. However, when they attempted to go inside the house to get her sister they were driven back by the roaring flames.
The charred body of Margaret London was recovered after some time the fire was put out and is currently at the Arokium Funeral Parlour awaiting an autopsy.
Mapowan commended the fire service for its prompt response.
When Stabroek News arrived at the scene, scores of villagers had gathered to lend a hand while others looked on. Two fire trucks and a group of fire fighters were seen conducting investigations as well as tending to the fire. It was observed that there was no shortage of water as fire hose was seen in a main trench a few feet away.
Later, Olive London could be heard inquiring about the investigation into the fire and asking persons who approached her to offer condolences, whether anything in the house had been saved.
Neighbours said that while persons in the village would usually cook and send food for the elderly sisters, Olive would still keep herself busy cooking and doing chores around the house.
Olive lamented that many residents would refer to them as "the two old ladies, but now there is only one."
Apart from Olive, Margaret also leaves to mourn an overseas-based sister and a brother who lives in Georgetown and would take care of them.
Meanwhile anyone wishing to make a donation to Olive can contact Pastor Mapowan on telephone number 333-2239 or visit the Overwinning Bible Church.
Around the Web