The fire that claimed the life of octogenarian Margaret London on Wednesday night was fuelled by a kerosene lamp, Berbice fire chief Compton Sparman told Stabroek News late last evening.
London, 86, of 7 Cross Street, Islington, East Bank Berbice perished in the fire which left her 93-year-old sister and carer Olive London homeless.
Stabroek News understands that in the 90s Margaret London suffered two strokes that left her semi-paralysed and unable to escape the fire which spread through the three-bedroom home, reducing it to ashes.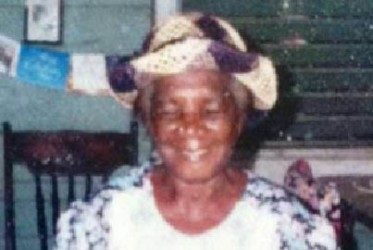 Asked if the elderly woman could have been saved, Sparman said if residents had detected the fire earlier they would have had an opportunity to save her. He added that because the house was the fire spread quickly and when fire fighters arrived it was already engulfed in flames. Sparman said the investigation was concluded.
Yesterday a resident said there were a number of attempts to enter the house but the heat was too much. The man, who asked not to be named, said when they up the backstairs they ran down back because of the excess heat.
He said no one had given attention to the front door at that point and perhaps if they had thought of kicking it in, they could have saved London.
Meanwhile, other residents said that if the old ladies had used electricity at night the fire could have been avoided. Stabroek News understands that they would normally turn off their lights to save on energy costs and would light lamps.
Mark Clark, a neighbour said the sisters would turn off their lights as early as 7 pm and use lamps and candles.
Olive London was taking tea for her bedridden sister when she encountered the fire. Her efforts at putting it out failed and she was subsequently rescued.
The burnt body of Margaret London was retrieved after some time the fire was put out and is currently at the Arokium Funeral Parlour.
Apart from Olive, Margaret also leaves to mourn an overseas-based sister and a brother who lives in Georgetown and would take care of them.
Meanwhile anyone wishing to make a donation to Olive can contact Pastor Manpowan on telephone number 333-2239 or visit the Overwinning Bible Church.
Around the Web