After spending thirty-six years in the teaching profession, more than half of which was spent teaching the blind, Ingrid Peters is distressed about the education afforded to children who are blind and is strongly advocating that a special school for them be established.
Peters, who recently retired and is herself blind, pointed to the fact that the Unit for the Blind at the St Rose's High School is still just a unit after 33 years and that this was an indictment of the Ministry of Education which she said is yet to learn about special children and their educational needs.
The mother of two, who is one of the persons who helped found the unit for the blind told Sunday Stabroek  in a candid interview, "The unit there is more failure than the successes, this is my opinion [and this] has to with the Ministry of Education, notwithstanding the fact that the Disability Act was passed in 2010 and disability has come a long way as the disabled are no longer hidden."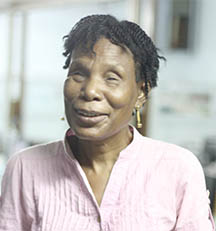 She said in terms of development in blind education the country is still "dragging" when compared to what is happening in other Caribbean countries. She noted that the education ministry is yet to learn about special children because there is no curriculum specifically geared towards addressing their needs.
Peters made it clear that while she is advocating a special school for blind children, she is not against them being integrated on a social level with other children. But she said what is happening now is that blind children are taught in the same class with children who are not, and this should not be.
"Children can socialize at the nursery and primary levels but when it comes to education they must have one designed to meet their needs and that is not what is happening Guyana," she stressed, adding that the children could have integrated education when they reach the secondary level because by then they would have learnt the basics.
"To me the Ministry of Education does not want to learn what to do…"she said, pointing out that when a blind child is in an integrated classroom they would not get the attention they need to really progress.
She charged that the country is moving backwards when it only has a unit for the blind 33 years after it was established, making it clear that a mere unit cannot solve the problem.
She observed too that the unit basically caters for children in the city and asked what happens to the children who live outside Georgetown and in interior locations.
And she said if the younger children who are blind are taught separately then it could be ascertained whether they are also intellectually impaired.
"As someone who is founder of the unit I would say we should stop playing school and really do the job," Peters said, advocating that a special unit be set up at the Ministry of Education to look specifically at the education of children with special needs.
'Dream'
Maybe it is because Peters was afforded a well-rounded education notwithstanding her disability at the Trinidad school for the blind which she was fortunate to attend from age six to 17.
Born in Trinidad to Guyanese and St Vincentian parents Peters has dual citizenship in Trinidad and Guyana and the fifty-year-old  recalled that during her time there was no school in Guyana that taught the blind and some of the blind children through public and private collaboration were sent to Trinidad to be schooled.
Peters was the last child from Guyana to be sent to Trinidad and upon her return she said it was her dream to see children who are blind catered for in the education sector.
The former teacher, who was born with congenital cataract and had partial vision up to age 16, said soon after her return she became employed with the Ministry of Education to teach brail in the classroom for the blind located at the David Rose School for the handicapped.
"This was a dream, because Guyana did not pay much attention to persons who were blind and in those days when you are blind you just stay home and that is how many of the blind were not educated," she said.
When she took up her teaching appointment Peters said she was shocked to observe that the blind children were being taught all the subjects by one teacher and there was no room for promotion, as they just remained at one level.
They also spent their break time just sitting on a concrete wall in front of the class.
"I found it very strange as a young girl, and I said this can't happen and the way they were taught there was no room for promotion…"  Peters said.
She said she raised her concerns with the teacher at the time and revealed how she had been schooled in Trinidad and that the children needed to be taught with the aim of being promoted like other children, and that they should be integrated socially.
The teacher liked the idea and started moving towards making it a reality but Peters is still smarting over what she said was the fact that the idea was sold as if it was the teacher's whom she said was much older than her and would have known the right people to approach.
In the end it was decided as an experiment to have the unit for the blind set up at St Rose's in 1980 where the integration of the blind started. It was in 1982 that three blind children wrote the CXC examination for the first time in Guyana. One of those persons was well-known media practitioner Julie Lewis, who did exceptionally well, and according to Peters it was those three persons who opened the doors to CXC for blind students in Guyana.
Talking about her teaching career Peters said it was very challenging, but after eight years at the unit she attended the Cyril Potter College of the Education and became the first totally blind person to attend classes at the college.
After completion she returned to the unit and continued to serve blind children.
In 1989 she secured another first when she obtained a merit and distinction in music up to Grade 5 from England.  Also in terms of blind cricket, she and the Mighty Smoker played blind cricket in Trinidad while attending school and she was the three-time champion in Trinidad for swimming.
After teaching for almost 19 years in special education she subsequently went to the University of Guyana where she studied fine arts and obtained a diploma, crediting that as one of her best achievements as many thought a blind person could not have taken up that line of study.
Peters was later sent to what was then the St George's Community High School where she spent 11 years teaching music.
"At St George's it was very challenging and I would always say if you can teach there you can teach anywhere, but I enjoyed teaching there," she said.
She had also taught music part time at the St Agnes Primary School and after St George's she was transferred to St John's, where she spent five years teaching music and remained until she retired earlier this year.
"If I am to look back I think that I enjoyed teaching the students of yesterday… teaching was more respected then," Peters said reflecting on her career.
The students at St George's who were considered not be academically inclined were the students who needed the love and attention, and she enjoyed that.
"If I should live my life all over again I would still want to become a teacher," Peters said, but went on to say she does not plan to teach full time again but could do some private lessons. She needs another job and does not mind working within the Ministry of Education in some capacity.
Peters has been married for the past 22 years and is a mother of two sons, both of whom are in the media field, and she said she could not have made it without the helping hands of too many persons to mention, to all of whom she is thankful.
Around the Web