Plaisance East Coast of Demerara resident Esmay Springer yesterday became the country's latest centenarian and says the secret to her longevity is regular herbal cleansing.
'Mama,' as she is fondly called by her nine children and villagers, yesterday held a thanksgiving party to celebrate her 100th birthday.
She told Stabroek News that she was still able to take care of herself without any assistance and believes that the key to living a long life is regular detoxing. "You have to take care of yourself …every two weeks or so drink some bitters or senna, castor oil and there are so many bushes to choose from but you have to clean yourself out," she said.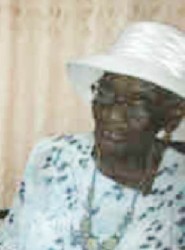 Reflecting on her decades she explained that she did many laborious jobs in her youth before settling as a homemaker with her husband Albert Springer, a cane-cutter.
Her son Lloyd Springer who hosted the party for his mother said that she also comes from a family of nine siblings but has outlived all of them.
He explained that he remembered his mother toiling as a brick-maker to supplement the family income and would sometimes walk miles selling bread.
He said that she loved cooking and rearing ducks and chickens.
The village turned out in numbers to wish 'Mama' a happy birthday and continued good health.
Around the Web