Republic Bank (Guyana) Limited last Tuesday hosted a special award ceremony in honour of its employees' children who completed the National Grade Six Assessment (NGSA).
The bank said in a press release that Sean Bhajan, Jenise Hinds, Krista Bhagwandin, Michael Williams, Nickesha Daniels, Malini Parmessar, Christine Persaud, Ryan Ramkirath, Jamayne Roberts, Joel Campbell, Imzan Husain, Elijah Fraser, Priyanna Ramdhani, Thakechand Ramkellawan, Tyrese Jeffrey and Jahleel London each received a Republic Bank RightStart Gift Certificate, along with a special gift.
According to the bank, since 2009, it began hosting an award ceremony in honour of all the children of members of staff who sat the annual examination and this ceremony has become a much-anticipated annual event for the staff and their children alike.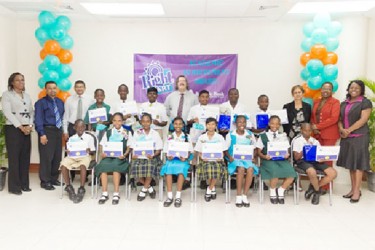 The board of directors, management and staff of Republic Bank (Guyana) Limited are "extremely proud and happy to have rewarded these young achievers and extend every best wish for their continued success," the release stated.
Around the Web